Shopping Cart
Your Cart is Empty
There was an error with PayPal
Click here to try again
Thank you for your business!
You should be receiving an order confirmation from Paypal shortly.
Exit Shopping Cart
Empowering youth to break the bonds of poverty.
| | |
| --- | --- |
| Posted on May 31, 2013 at 12:33 PM | |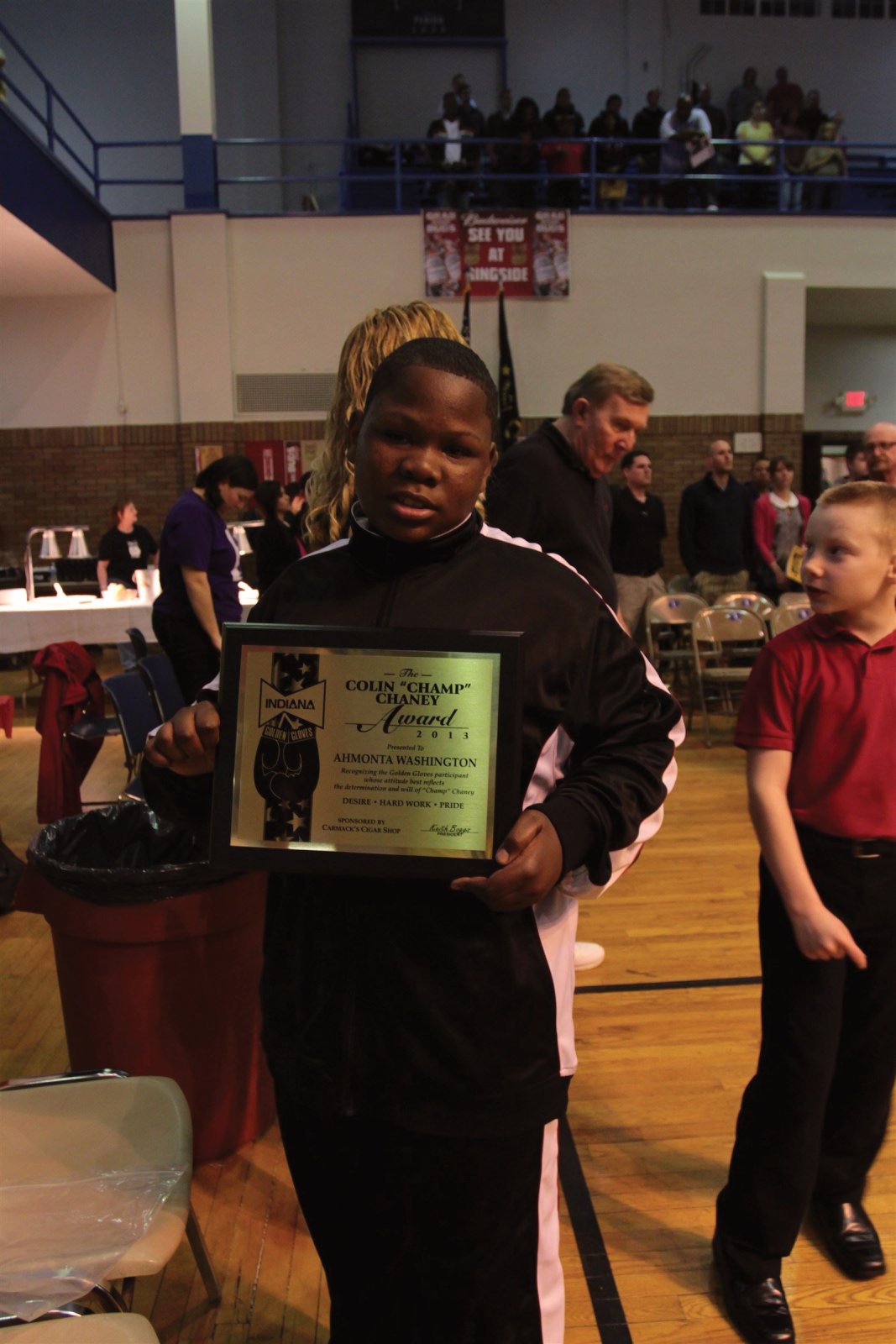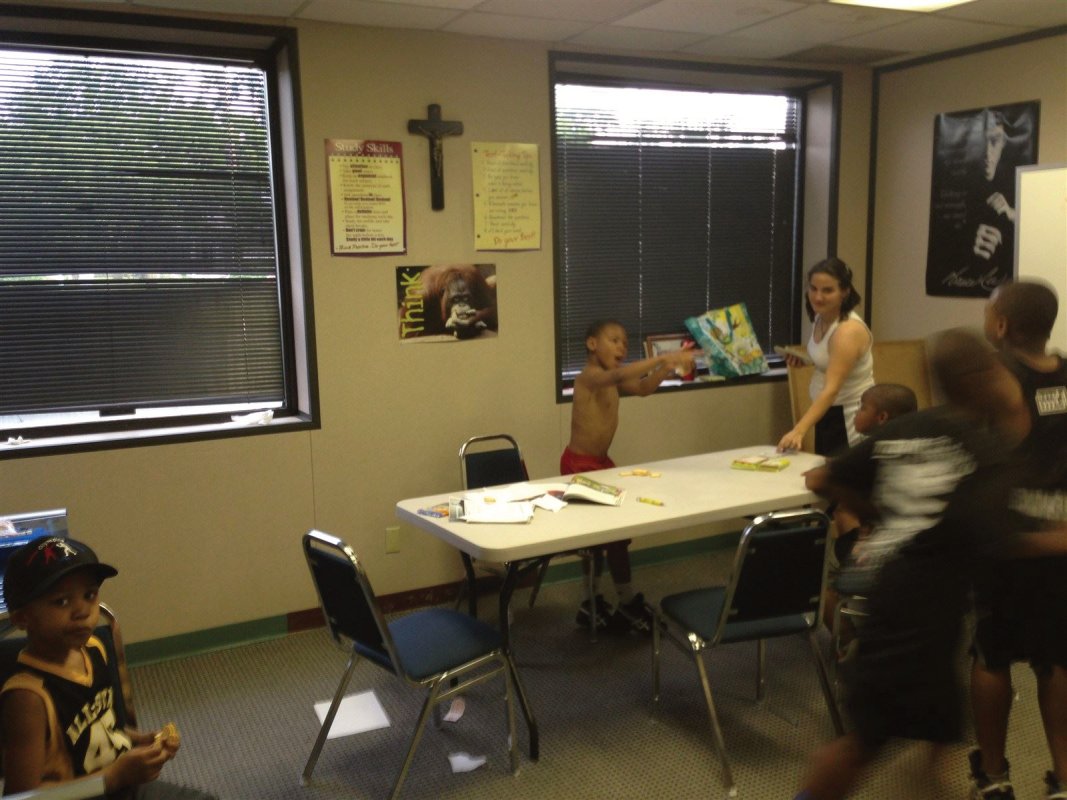 At Achieve International, we are coming to the end of another semester. Our fight to keep our boys achieving in the classroom, proves to be a never ending task. We have had some kids placed in honors classes, while others were transferred to alternative schools. We are honored that four of our boys graduated from high school, with a diploma, and will start college, or technical training in the fall. We witnessed another 5 earn their GEDs, and one graduate from HYCA (Hoosier Youth Challenge Academy).  Everyone on Team Achieve Boxing has meet or exceeded the minimum 2.5 GPA needed to stay on the team, and have progressed, to their next grade. Our modest computer lab has provided our boys an opportunity to recover credits after school hours at our facility. We ask for your prayers in the continued academic success of our boys. We have two new volunteers, that have been very involved in helping our boys transform their lives through faith and education. Jerry Barnaby, and Rebecca Townsend have had a dramatic impact this semester. I will introduce them more in depth in our next blog.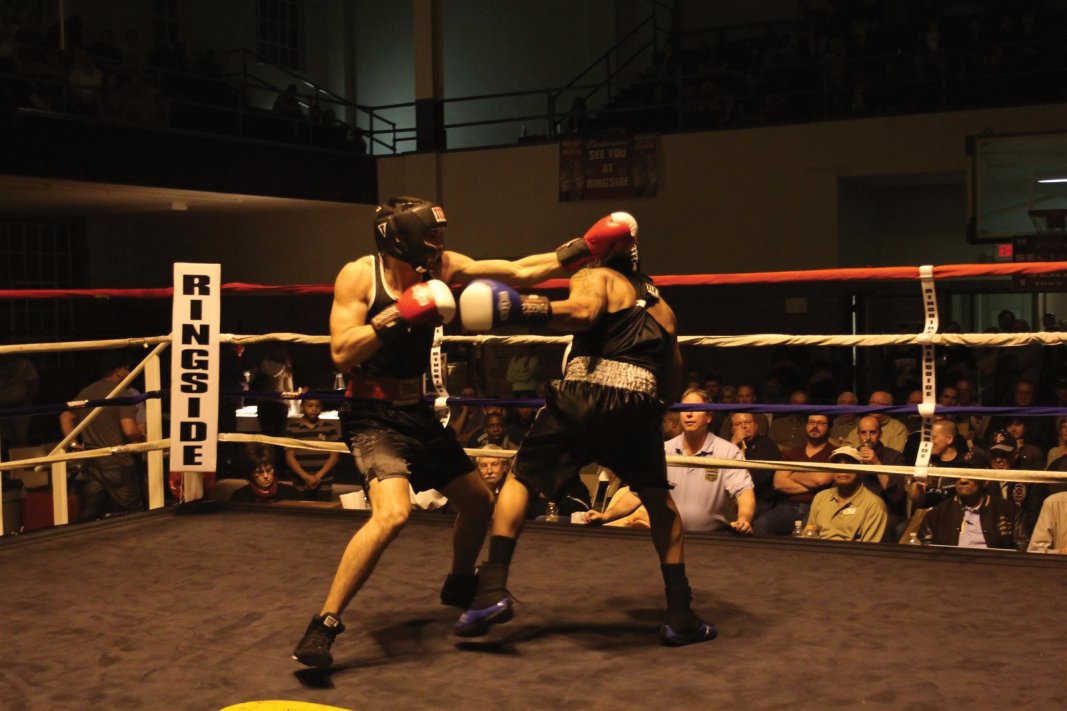 Golden Gloves
We started our boxing season off by preparing for the Indiana Golden Gloves. Golden Gloves is a six week, advancing state tournament. Of our Juniors ages 14-16, we entered 5 boxers. Two of them in the same weight class, advanced to fight each other in the finals. Our only loss among the Juniors was by a Team Achieve Boxer defeating a  Team Achieve Boxer. In all, 4 of the 5 won state titles, our only Junior loss came from a fellow team mate.
Our Junior Golden Gloves Champions are:

E'mond "MooMoo" Driver 141 lbs. Champion
Cristian "Bones"  Gomez 132 lbs. Champion
Ahmonta "TayTay" Washington 168 lbs. Champion
Dewayne "Squirmy" Fletcher 189 lbs. Champion
Demers  "DEMDEM" Bradey, lost in the final championship to Cristian Gomez.
The Champ Chainey award was given to our very own Ahmonta Washington. The Champ Chainey award is a prestigious award given to a boxer who shows outstanding character, and discipline, in and out of the ring. This is the second time that one of our boys has earned this award. TayTay proudly displaces his award in our Team Achieve Trophy Case, at our facility.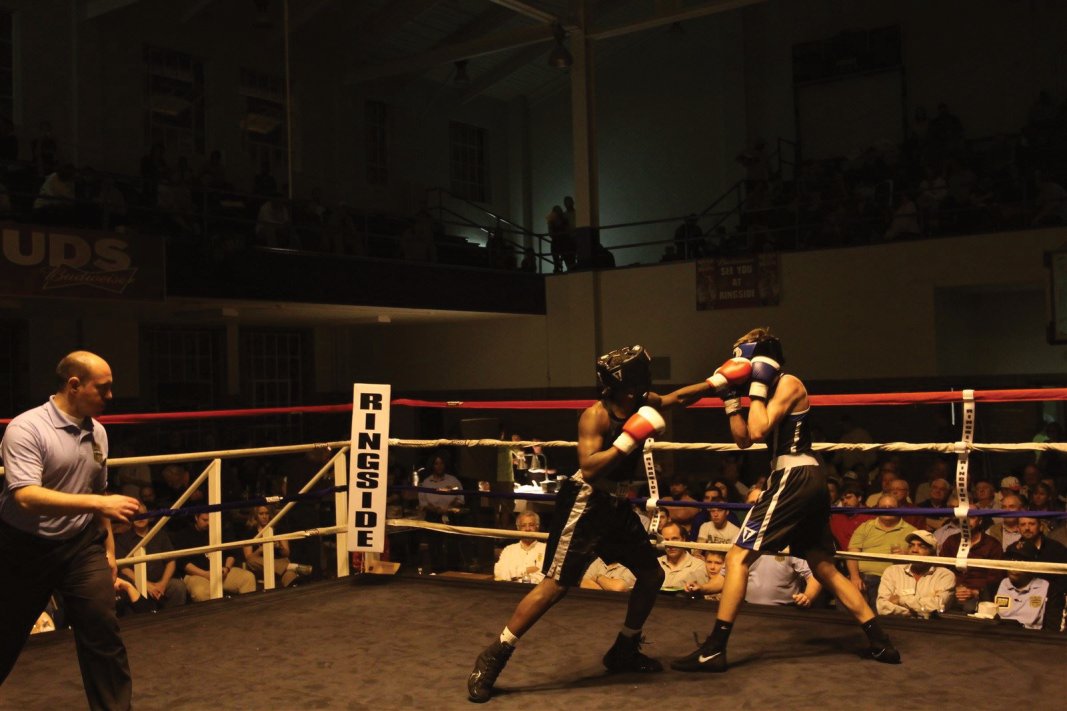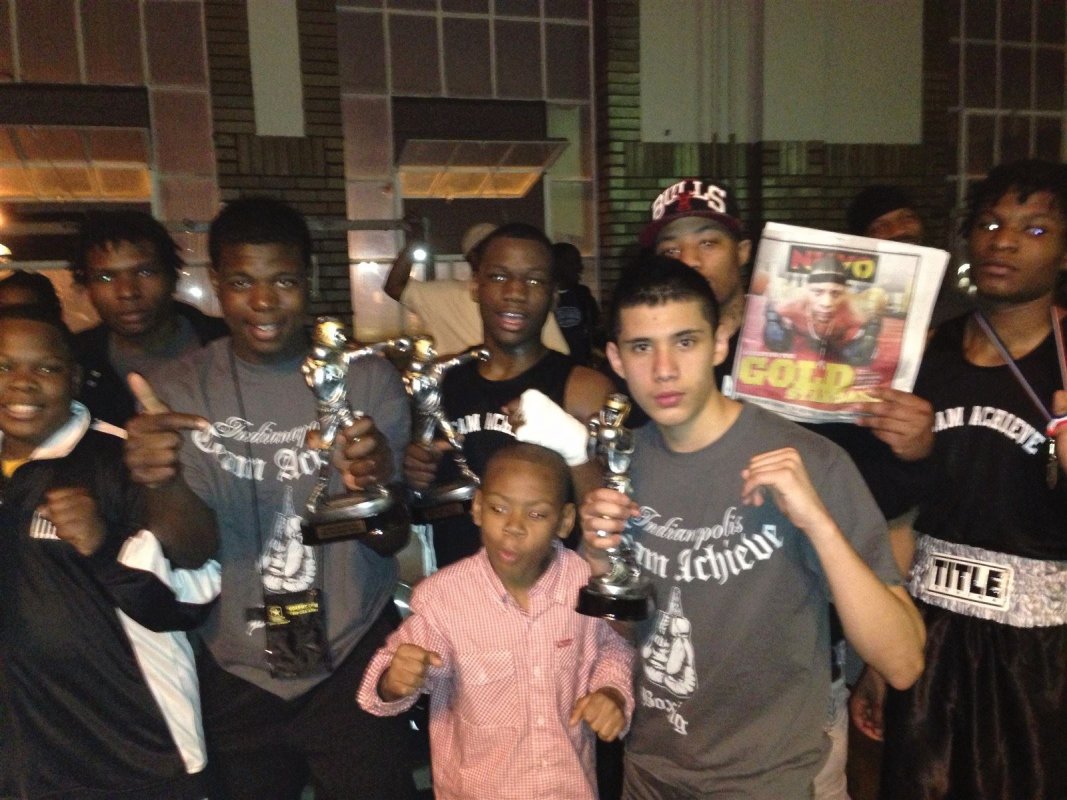 Cortez "Doonie" Hill competed one of the most competitive classes in the tournament this year. At 165lbs, Doonie had to fight every week for five weeks. He dominated bigger, stronger, and more experienced opponents week, after week. Our Doonie, lost a very controversial decision in the championship round. Doonie's performance in the ring put him in the spotlight, and a fan base grew. His loss in the championship round, broke his heart. He has never worked this hard at anything in  his life before. His dominance inside the ring landed Achieve International some very positive publicity. Doonie's picture graced the cover of NUVO magazine, and was followed by a story about him, our gym, and our program that was very favorable towards us. In addition, it sparked the interest of a film maker, from Comcast cable. They showed up at our gym with a camera crew, and are featuring us in a documentary about boxing, that will air on Comcast on demand, late this summer.
Indiana Junior Olympics


This year we entered 10 of our boys, in the Indiana Junior Olympics. This is by far, my favorite tournament of the year. This tournament is for youth ages 08-16. Boxers in the senior division, can advance to regionals, a five state tournament, and winners of regionals, can compete at nationals. We loaded up the team van, and as always, our boys were in uniform, and set the bar high for other teams, inside the ring and out. For a few of our boys, this would be their first competitive boxing match. Of the 10 we entered, we picked up 9 new state champions.
Edson "Rampage" Driver 70 lbs. Champion
Keno Lockridge 95 lbs. Champion
Marquee Haggins 102 lbs. Champion
Darin "Batman" Thomas 115 lbs. Champion
Cristian "Bones" Gomez 132 lbs. Champion
E'mond "MooMoo" Driver 145 lbs. Champion
Ahmonta "TayTay" Washington 168 lbs. Champion
Dewayne "Squirmy" Fletcher 189 lbs. Champion
Dreshawn "Black" Carter 201+ lbs. Champion
Junior Olympics Region 5 Regionals
Three of our boxers, at the Junior Olympics were in the senior division. This means that they have had at least five fights, and can advance to regionals.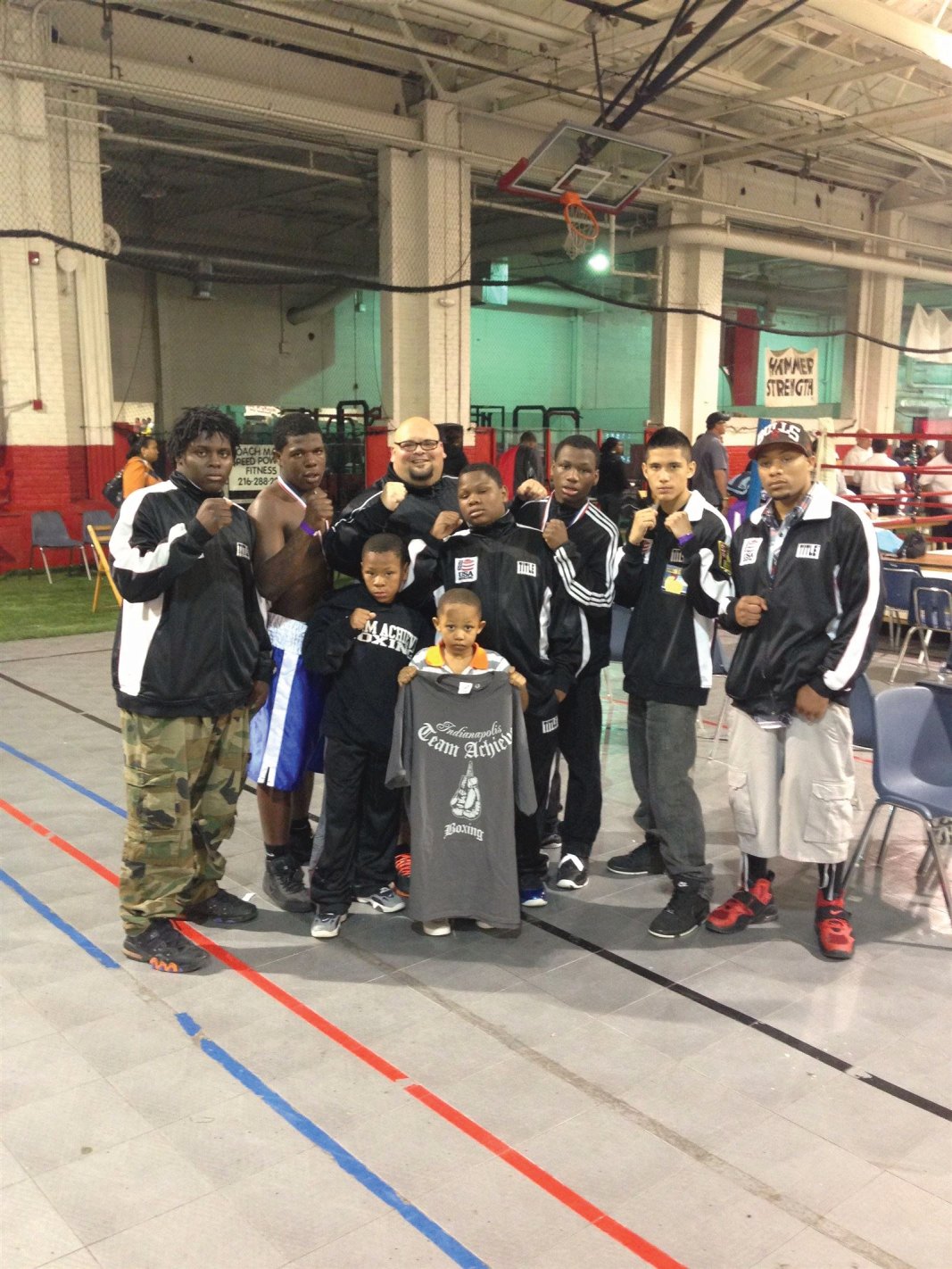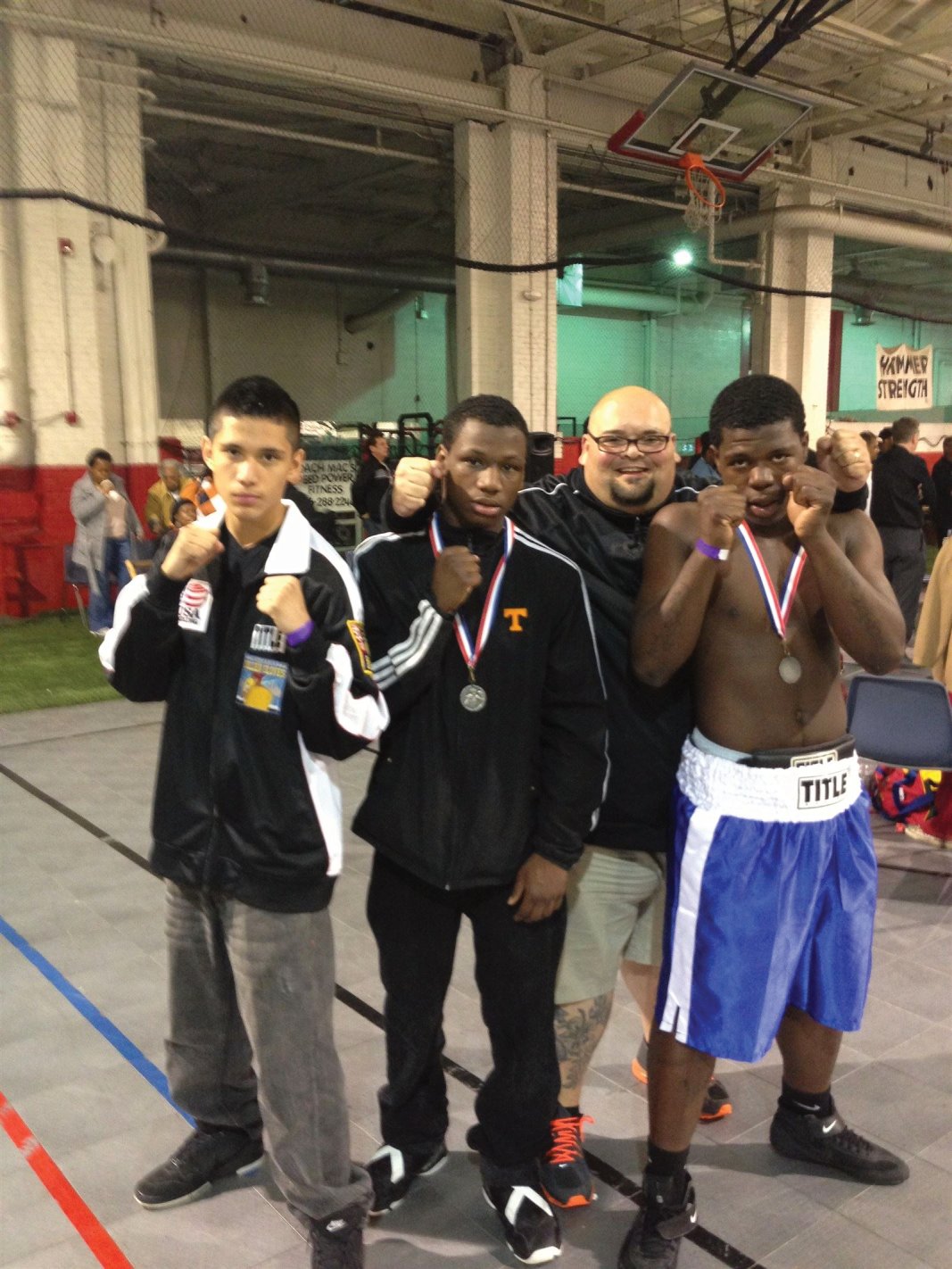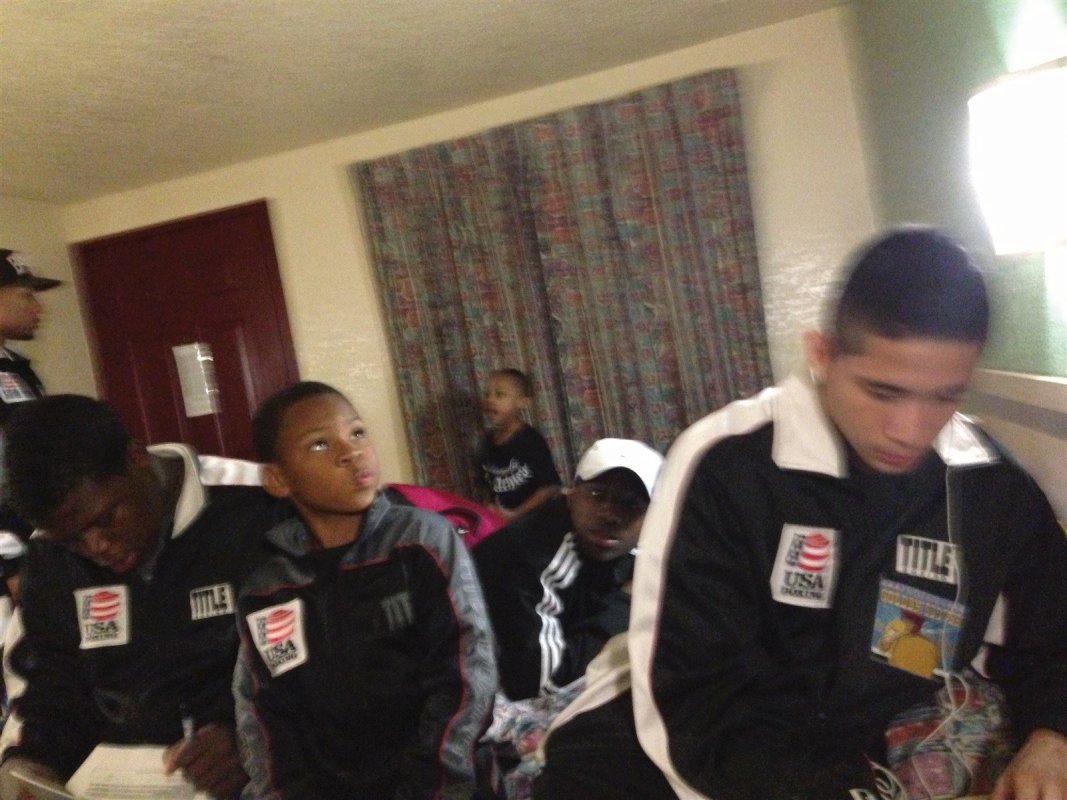 E'mond Driver, Cristian Gomez, and Dewayne Fletcher all advanced to regionals. The Region 5 Junior Olympic Regional competition was held just outside of Cleveland, OH. We had three competing in the tournament, but we took a total of 9 guys with us. The level of competition is intense on the regional level. E'mond has had a total of 11 bouts, while Cristian and Dewayn only have had 5. Most of the kids competing at Regionals has had 40-100 bouts. The impetus for taking such an inexperienced team to such a high level competition was just for them to gain experience. Our boys did much more than that. Cristian made it to the semi-finals before losing a split decision to a more experienced boxer. It was an awesome fight, and would have been very hard to judge. E'mond, Dewayne both made it to the championship bout  in the finals. E'mond was very nervous and made a few mistakes that cost him points losing a unanimous decision. Dewayne fought a war, perhaps the most exiting fight, I have ever coached. He fought a 2 time national champion, that had a solid 100 lbs. on our Dewayne. Dewayne wasn't intimidated in the least. The bell rang and Dewayne came out making the big guy miss, then making him pay with 3-5 punch combos. Round 1 was a clear victory for Dewayne. The second round the national champ put up a bit more of a fight and used his weight to lay on Dewayne and neutralize his speed.  I scored the round a draw. By the third round, both fighters were fatigued, and there wasn't much action. The national champ tired to turn it up the last 30 seconds, but Dewayne was able to avoid the onslaught. I gave the third round to the national champ, due to his aggression. As the ref tallied the score cards, the crowd was on their feet. The decision was split two judges scoring 28-27 in favor of the national champ, and one judge scoring 28-27 in favor of Dewayne. It was an awesome battle. Our boys defied the odds again. I am very proud of their accomplishments. On the ride home we shared our life stories, why we boxed, where we were at with our Lord. We had some emotional times, some funny times, and above all we focused our time, and success on our Lord. Thank you all for your support of our mission!   
Categories: Coaches Corner
/