Shopping Cart
Your Cart is Empty
There was an error with PayPal
Click here to try again
Thank you for your business!
You should be receiving an order confirmation from Paypal shortly.
Exit Shopping Cart
Empowering youth to break the bonds of poverty.
It takes a village to raise a child.
The Achieve Academy has opened its Virtual academic center.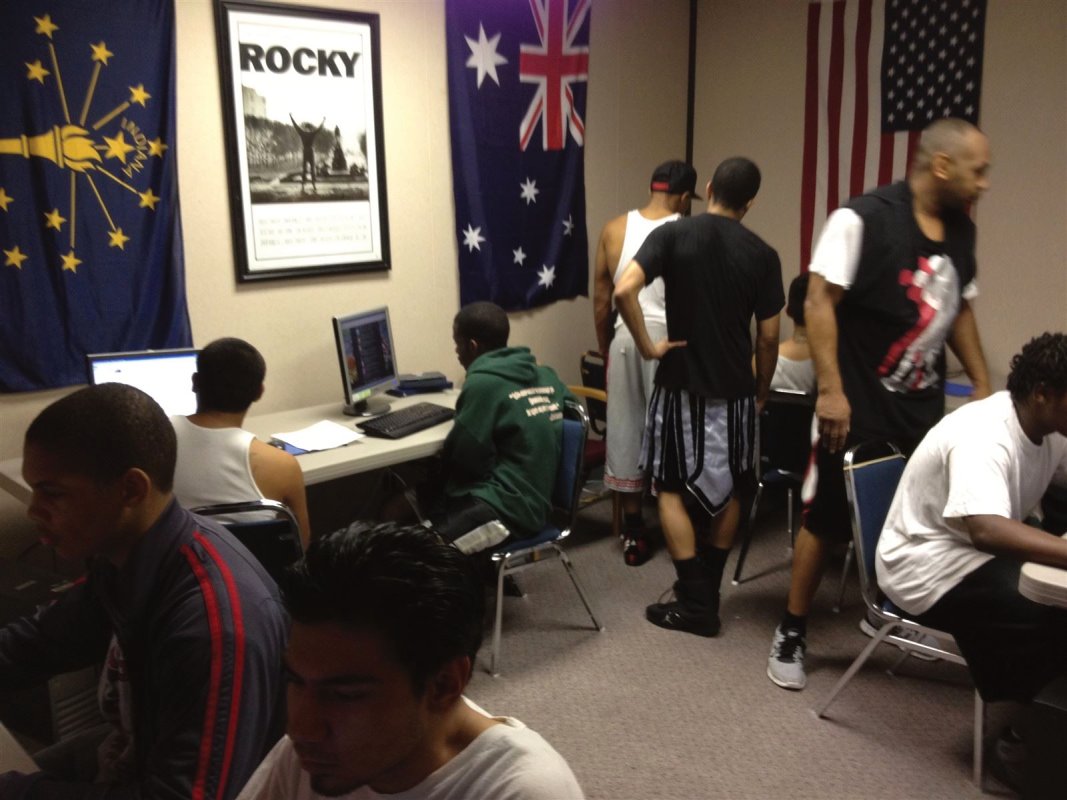 Most of us have heard the African proverbial saying "It takes a village to raise a child". We believe that this holds true for the inner-city as well. We have had the distinct privilege of watching leaders in our Indianapolis community come beside our students to offer  them better opportunities to achieve academic success. At Achieve International we are committed to the challenge of helping our students take back their education and reclaim their future.  Most of our students are enrolled in some type of online learning. We began to investigate what it would take to get a few computers for our students at AI to assist in academic research and credit recovery.  Dr. Greenwood of IPS and Don Kent of Net Literacy collaborated to donate eight computers to AI.  Another sponsor purchased us new computer tables and chairs for both the computer lab and Achieve Academy Class room. All of the IT services were donated as well as the Ethernet cables and in just a few weeks we were online and a fully functional virtual academy.
 Online or virtual learning as it is called, has become a fast-growing approach to educating students.  Over the past decade this method of instruction has grown in the setting of kindergarten through 12th grade as well as many college courses. In IPS and surrounding school systems, online learning and the PLATO system founded by Bill Gates are being utilized to give students the opportunity to recover credits placing them back on track to graduate with their class.  These courses have the distinct advantage of being self-paced. This allows a student to advance through the material as quickly as they can master the subject matter. If a student is struggling in a particular subject he can take the extra time need to be confident in the material and succeed. This approach allows students to cater education to their needs and abilities.  We encourage our students to utilize the Khan Academy.  
The Khan Academy is a non-profit educational organization, created in 2006 by MIT graduate Salman Khan. The Khan Academy supplies our students with a free online collection of more than 2,700 micro lectures via video tutorials where each subject is broken down and thoroughly explained. This has proven to be a useful tool in breaking down the most complex of subjects.  Mr.Khan explains things in a way that our students get.
Credit recovery, Ivy Tech online courses, day adult education and reclaim your future are all programs that our students are employing to transform their lives and take back their academic future. We are humbled and honored by all of the people that have walked beside this project and helped push it forward into a working reality. Thank you all for helping us transform lives through faith and education.
|
At Achieve International we seek to help kids redirect their lives. This starts with understanding that they are not an accident but were created by the God of our universe.  We offer kids hope in the form of our Lord Jesus.  We don't do this in an effort to clean kids up or so they will stop cursing and double parking downtown but rather, we do this because when a kid truly embraces their faith, they allow themselves to be defined not by the streets, teachers or police officers but rather,  by THE CHRIST! When this happens we see radical transformation. I could spend days telling stories of kids who have transformed their lives.  Father Greg Boyle in his book "Tattoos of The Heart" said "If there is a fundamental challenge within these stories, it is simply to change our lurking suspicion that some lives matter less than other lives." We exist first to Glorify our Lord and second to help kids Transform their lives through faith and education!
Indiana dropout rates are alarming with and average of 3 students dropping out every day.  Indianapolis has amongst the highest dropout rate of not only Indiana, but also the nation. A large number of Indianapolis and surrounding area schools have a dropout rate of around fifty-percent, which has earned them the label of "Dropout Factories" by John Hopkins University researches.  At Achieve International we say that this is not ok. We intervene in the lives of inner-city youth and help them transform their lives through faith and education. We take a holistic approach in helping kids.  With such an overwhelming and daunting task we must ask the question "Where do we start?" We start by accepting the fact that we simply cannot help every kid. We can only help those who want the help and are willing to do the hard work it takes to achieve it. We have partnered with such organizations such as HYCA (Hoosier Youth Challenge Academy),Job Corps, Day Adult, the Walker Career Center and Diploma Plus.  It is our hope that every kid will earn a high school diploma but this is simply not a reality for many kids.   Through the use of the PLATO online credit recovery system over half of the high school dropouts that enter our program are able to obtain a high school diploma. For those who a high school diploma is not a reality we look to accredited GED programs.  We don't stop a just finishing their high school education.  Getting a diploma or a GED is a non-negotiable at Achieve International. Once this mandatory milestone is achieved we look at getting them enrolled in college, trade school, apprenticeship programs and the military. We have witnessed hundreds of kids re-enroll in school and take back their high school education.   We are currently praying about having a computer lab onsite at Achieve for kids to work on their credit recovery. Thank you all for your love and support!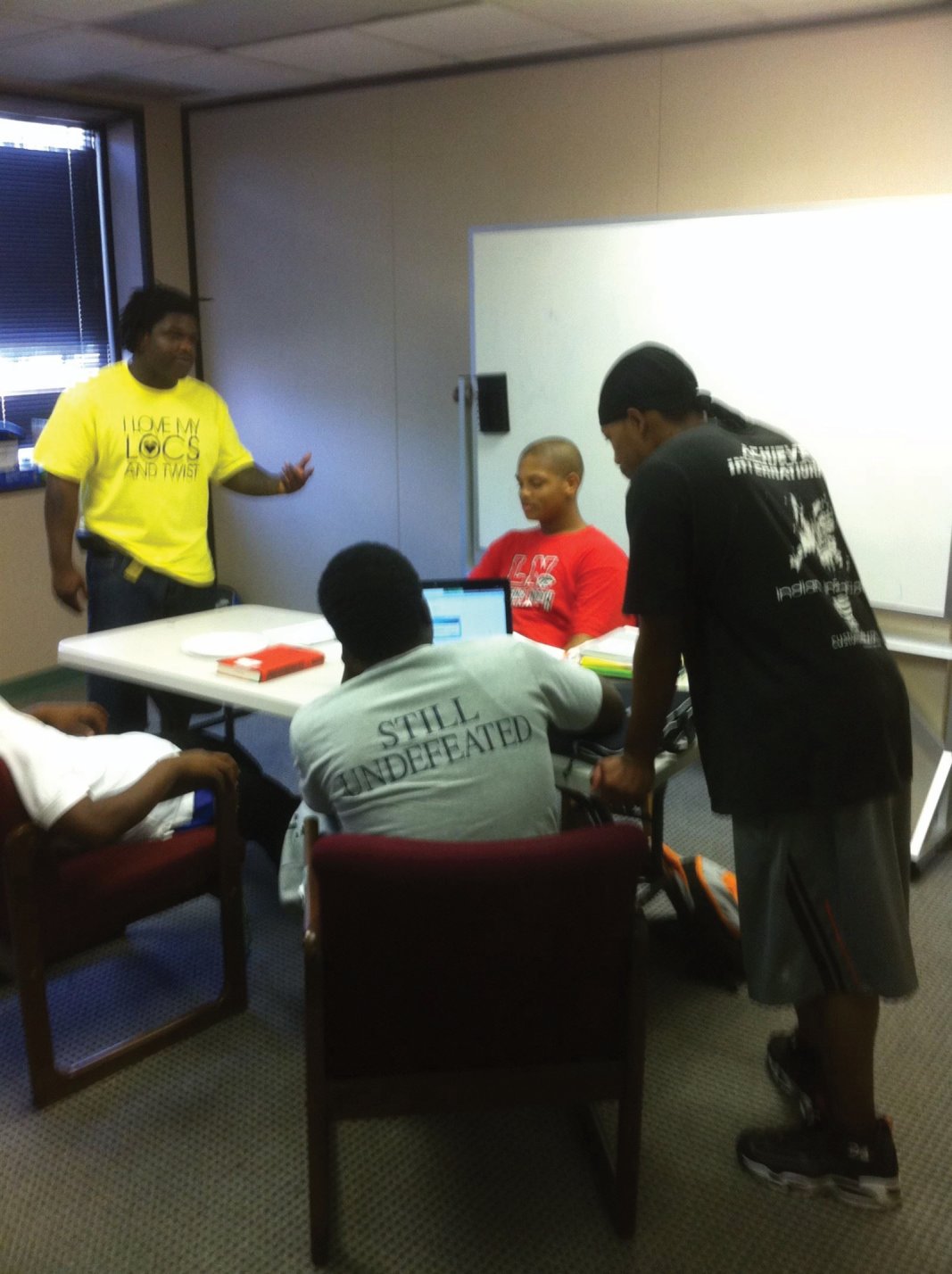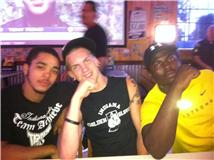 Wow what a summer! We have seen our Lord do some amazing
things. Every day we are watching lives be transformed through
faith and education.  Set forth below are some highlights from
this summer. 
1. We moved into our new location.
2. We have filled the bellies of hundreds of kids.
3. Eight of our guys have held down jobs for the entire summer and will continue employment throughout the school year.
4. One kid earned a 17k scholarship to HYCA and has graduated pre-challenge.
5. Two of our guys worked extra hard in summer school earning enough credits to graduate their senior year on time.
6. One of our long time students earned his EMR and EMT certification.
7. We have six guys enrolled and starting college this August. Four at Ivy Tech and two at IUPUI.
8.  One  student took his placement test at IUPUI and was expecting to need several remedial classes. To all of our shock he scored so high in math that he received a full ride scholarship from the school and was accepted into their  Civil engineering program.
9. We took our scholars for a day of fun and celebration at Holiday World and Splashing Safari.
10. We competed in boxing tournaments all over Indiana and achieved a high level of success.
11. We have celibrated our first College graduate. In addition he has passed the NCLEX earning his nursing liscesne.
In all, it has been an amazing summer.
Let me conclude with one final story. One of our  kids has the nick name is  "Big'em" as he is the bigger
of he and his twin brother. Big'em is a extremely small for his age of 14. He loves animals and the kids
call him the "urban Steve Irwin". Big'em has brought everything from rats , raccoons and snakes to the
gym. He loves these wild animals and oddly enough they seem to love him back.   A few years back he
was shot with a BB gun just above  his eye causing a blinding cataract.  One day, a Dr. friend and
supporter of A.I. stopped by the gym to see our new location. He noticed the blinding cataract and
mentioned that it may be possible to remove the cataract and restore Big'em's sight.  We made a follow
up call to another friend who is an eye surgeon and he is interested in helping the young man receive sight
in his bad eye. Early this September we will take Big'em and his mother to their first consultation.  Please
join us in prayer as they attempt to restore sight to this young man. It is amazing to see the hope that was
instilled in a kid who was complacent to live blind in one eye. WOW!! That's how our Lord works. He
uses a fresh set of eyes to notice the blind and then gives them sight. I recall the scripture in John 9 where
Jesus gave the blind man sight. "He replied, "The man they call Jesus made some mud and put it on my
eyes. He told me to go to Siloam and wash. So I went and washed, and then I could see." 
 I am grateful for the front row seat our Lord has given me to this mission.  We will cap off our summer
by competing under a tent this Saturday at the Black Expo in Anderson.  After that we will shut our doors
for two weeks to get kids settled in to school. We will re-open Aug 22 and begin our fall hours. We are
still in need of tutors for our study tables. Please join us in prayer as we take it to the streets and transform
lives through faith and education.  I also ask that you will lift up in prayer the Blackburn family. Personal
friends and supporters of A.I., the Blackburns'have suffered a great loss. Please add them to your daily
prayers.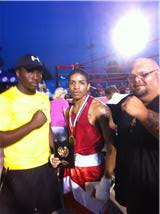 Isaiah 35:5 Then will the eyes of the blind be opened and the ears of the deaf unstopped.
Achieve International has moved into its new location. Our new building is in the Brookside Industrial complex on the east side of Indianapolis. This serves as a perfect location for the kids in our programs. We share the complex with the IMPD Gang task force and a wonderful Christian Day care. Many don't know that we endured the winter in a dilapidated building that had no bathrooms or running water. When it would rain outside the leaks in the roof allowed it to rain inside resulting in standing water on the floor. Furthermore, we had no heat all winter long. Now, one would think that no kid would come to such a place. However, we registered 145 kids during our time there and averaged 40 kids a week. Despite the less than desirable conditions we filled hundreds of young bellies with food, feed young minds with the God's amazing Love story, gave away 200 Bibles, picked up 4 state boxing championships and 2 silver medals in the Junior Olympics. Our Lord has gone before us and anointed us to preach His love to the poor. Through much prayer and hard work we have found a new home. In addition to central heat and air, our new building has an office, kitchen  and two bathrooms. We have a nice sized classroom where we will host our anger management classes, financial classes, and Bible studies. Team Achieve now has a locker room and a full boxing/wrestling gym. We have truly felt the hand of our Lord on us. The kids were elated and felt a sense of pride as we moved in last week. We are running our full summer program as we get settled in and unpacked.  Thank you to all of our donors and community partners who help us live out our mission of Transforming Lives Through Faith and Education. Please feel free to drop in anytime or call for a tour.
/