Shopping Cart
Your Cart is Empty
There was an error with PayPal
Click here to try again
Thank you for your business!
You should be receiving an order confirmation from Paypal shortly.
Exit Shopping Cart
Empowering youth to break the bonds of poverty.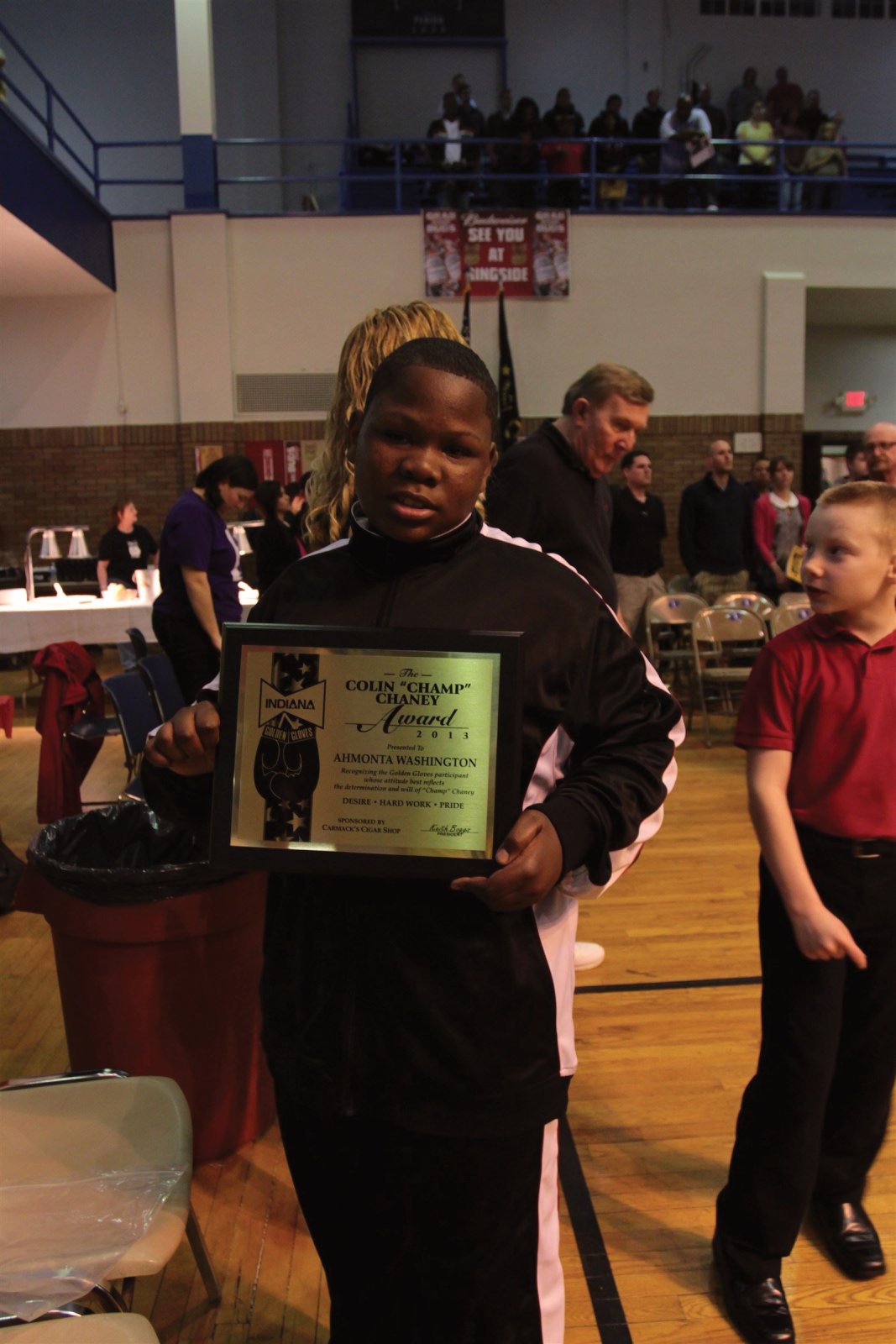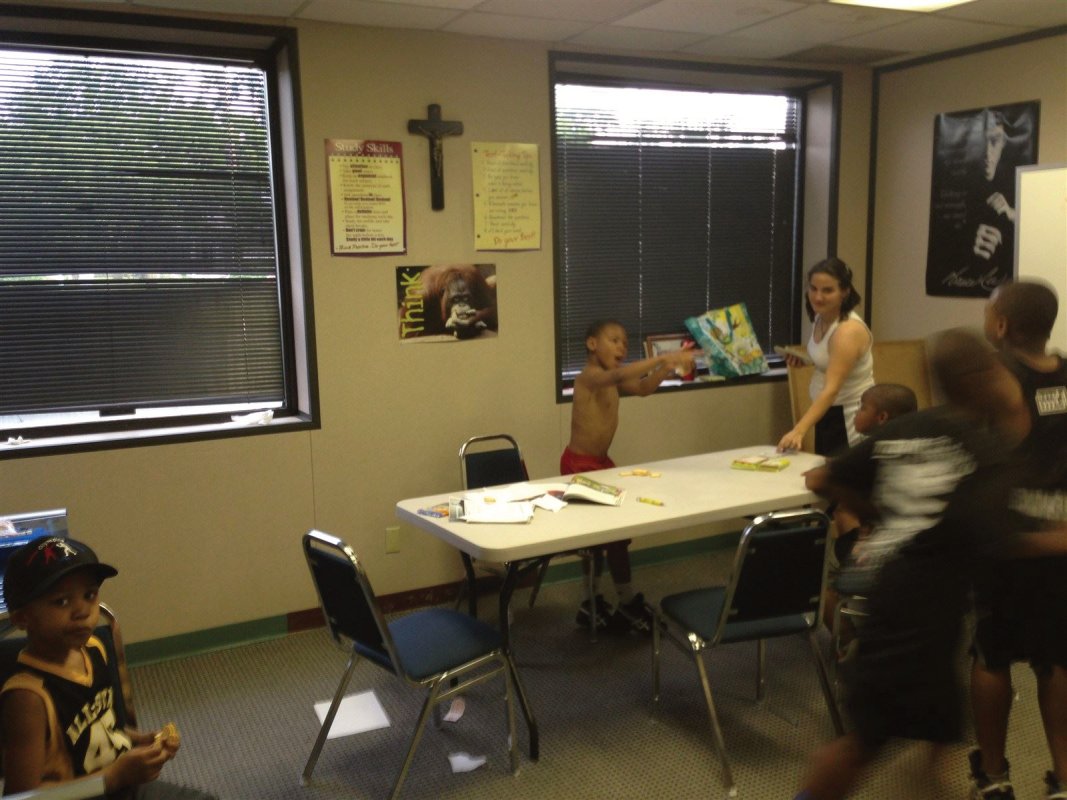 At Achieve International, we are coming to the end of another semester. Our fight to keep our boys achieving in the classroom, proves to be a never ending task. We have had some kids placed in honors classes, while others were transferred to alternative schools. We are honored that four of our boys graduated from high school, with a diploma, and will start college, or technical training in the fall. We witnessed another 5 earn their GEDs, and one graduate from HYCA (Hoosier Youth Challenge Academy).  Everyone on Team Achieve Boxing has meet or exceeded the minimum 2.5 GPA needed to stay on the team, and have progressed, to their next grade. Our modest computer lab has provided our boys an opportunity to recover credits after school hours at our facility. We ask for your prayers in the continued academic success of our boys. We have two new volunteers, that have been very involved in helping our boys transform their lives through faith and education. Jerry Barnaby, and Rebecca Townsend have had a dramatic impact this semester. I will introduce them more in depth in our next blog.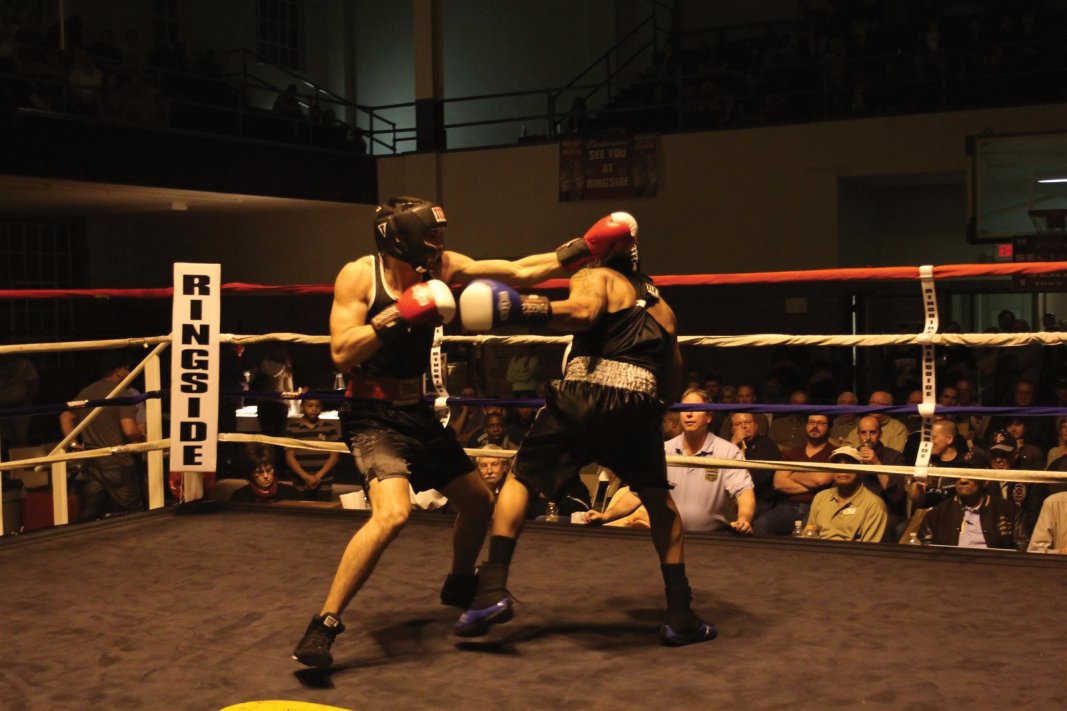 Golden Gloves
We started our boxing season off by preparing for the Indiana Golden Gloves. Golden Gloves is a six week, advancing state tournament. Of our Juniors ages 14-16, we entered 5 boxers. Two of them in the same weight class, advanced to fight each other in the finals. Our only loss among the Juniors was by a Team Achieve Boxer defeating a  Team Achieve Boxer. In all, 4 of the 5 won state titles, our only Junior loss came from a fellow team mate.
Our Junior Golden Gloves Champions are:

E'mond "MooMoo" Driver 141 lbs. Champion
Cristian "Bones"  Gomez 132 lbs. Champion
Ahmonta "TayTay" Washington 168 lbs. Champion
Dewayne "Squirmy" Fletcher 189 lbs. Champion
Demers  "DEMDEM" Bradey, lost in the final championship to Cristian Gomez.
The Champ Chainey award was given to our very own Ahmonta Washington. The Champ Chainey award is a prestigious award given to a boxer who shows outstanding character, and discipline, in and out of the ring. This is the second time that one of our boys has earned this award. TayTay proudly displaces his award in our Team Achieve Trophy Case, at our facility.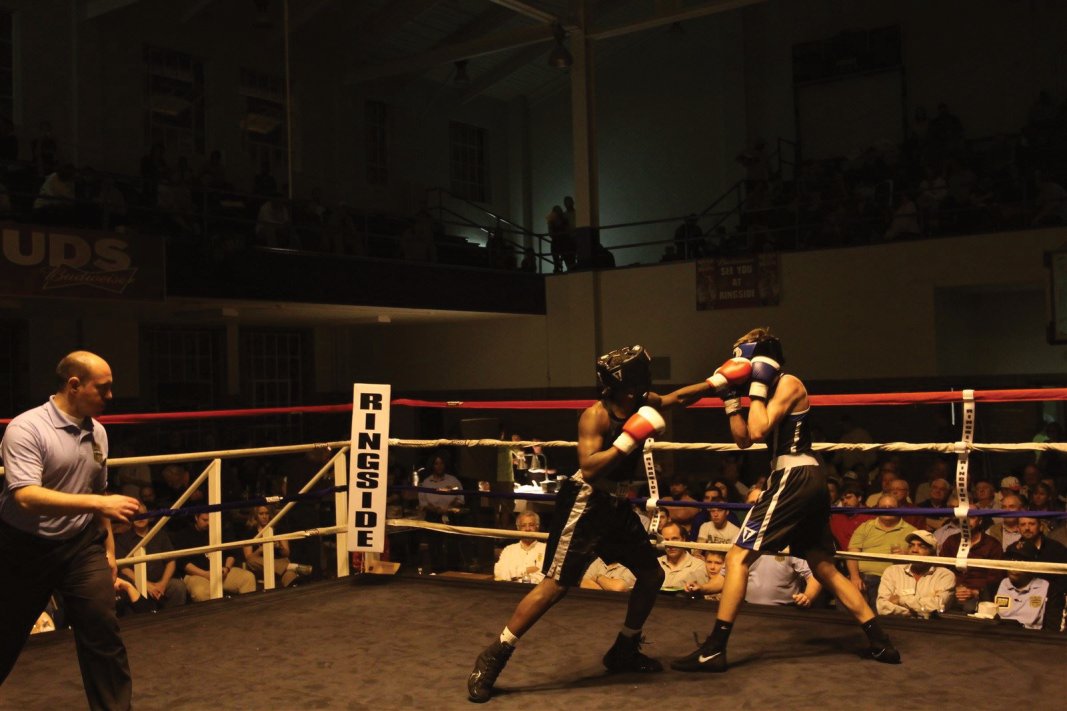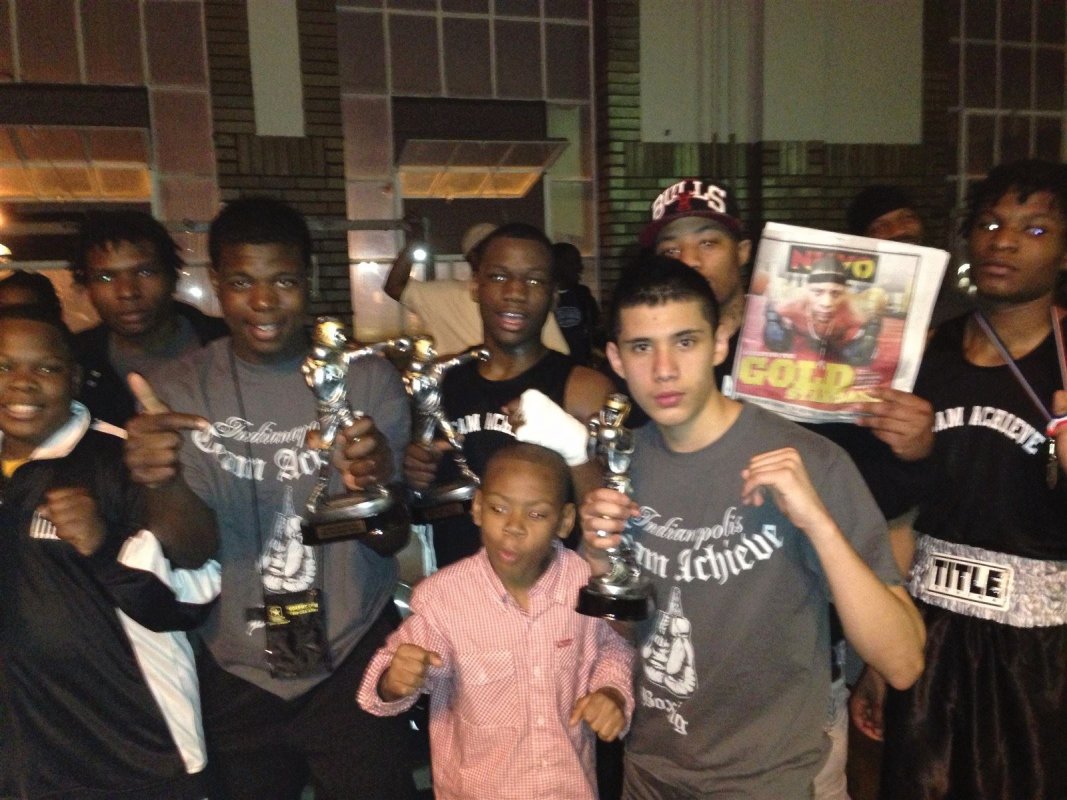 Cortez "Doonie" Hill competed one of the most competitive classes in the tournament this year. At 165lbs, Doonie had to fight every week for five weeks. He dominated bigger, stronger, and more experienced opponents week, after week. Our Doonie, lost a very controversial decision in the championship round. Doonie's performance in the ring put him in the spotlight, and a fan base grew. His loss in the championship round, broke his heart. He has never worked this hard at anything in  his life before. His dominance inside the ring landed Achieve International some very positive publicity. Doonie's picture graced the cover of NUVO magazine, and was followed by a story about him, our gym, and our program that was very favorable towards us. In addition, it sparked the interest of a film maker, from Comcast cable. They showed up at our gym with a camera crew, and are featuring us in a documentary about boxing, that will air on Comcast on demand, late this summer.
Indiana Junior Olympics


This year we entered 10 of our boys, in the Indiana Junior Olympics. This is by far, my favorite tournament of the year. This tournament is for youth ages 08-16. Boxers in the senior division, can advance to regionals, a five state tournament, and winners of regionals, can compete at nationals. We loaded up the team van, and as always, our boys were in uniform, and set the bar high for other teams, inside the ring and out. For a few of our boys, this would be their first competitive boxing match. Of the 10 we entered, we picked up 9 new state champions.
Edson "Rampage" Driver 70 lbs. Champion
Keno Lockridge 95 lbs. Champion
Marquee Haggins 102 lbs. Champion
Darin "Batman" Thomas 115 lbs. Champion
Cristian "Bones" Gomez 132 lbs. Champion
E'mond "MooMoo" Driver 145 lbs. Champion
Ahmonta "TayTay" Washington 168 lbs. Champion
Dewayne "Squirmy" Fletcher 189 lbs. Champion
Dreshawn "Black" Carter 201+ lbs. Champion
Junior Olympics Region 5 Regionals
Three of our boxers, at the Junior Olympics were in the senior division. This means that they have had at least five fights, and can advance to regionals.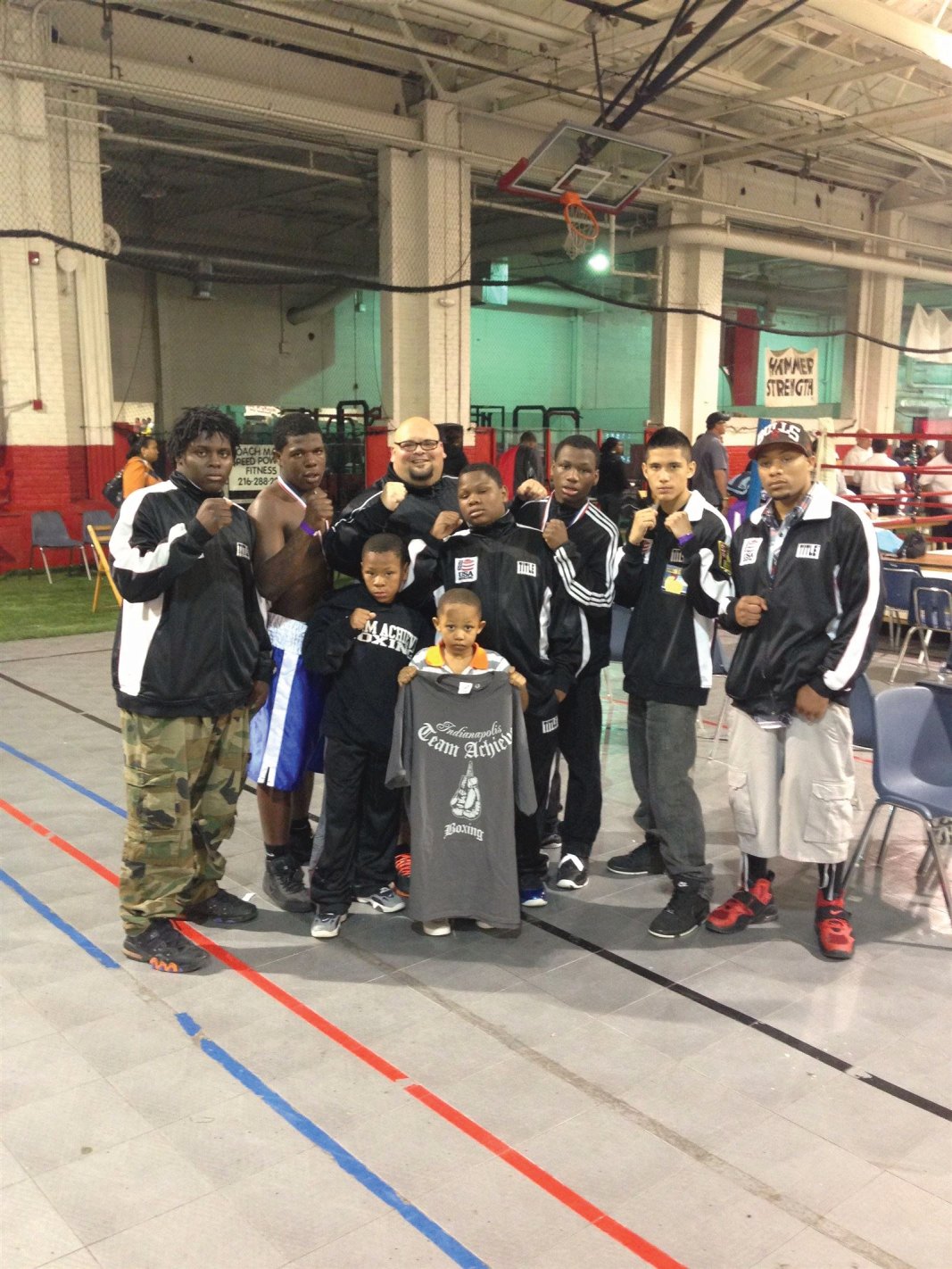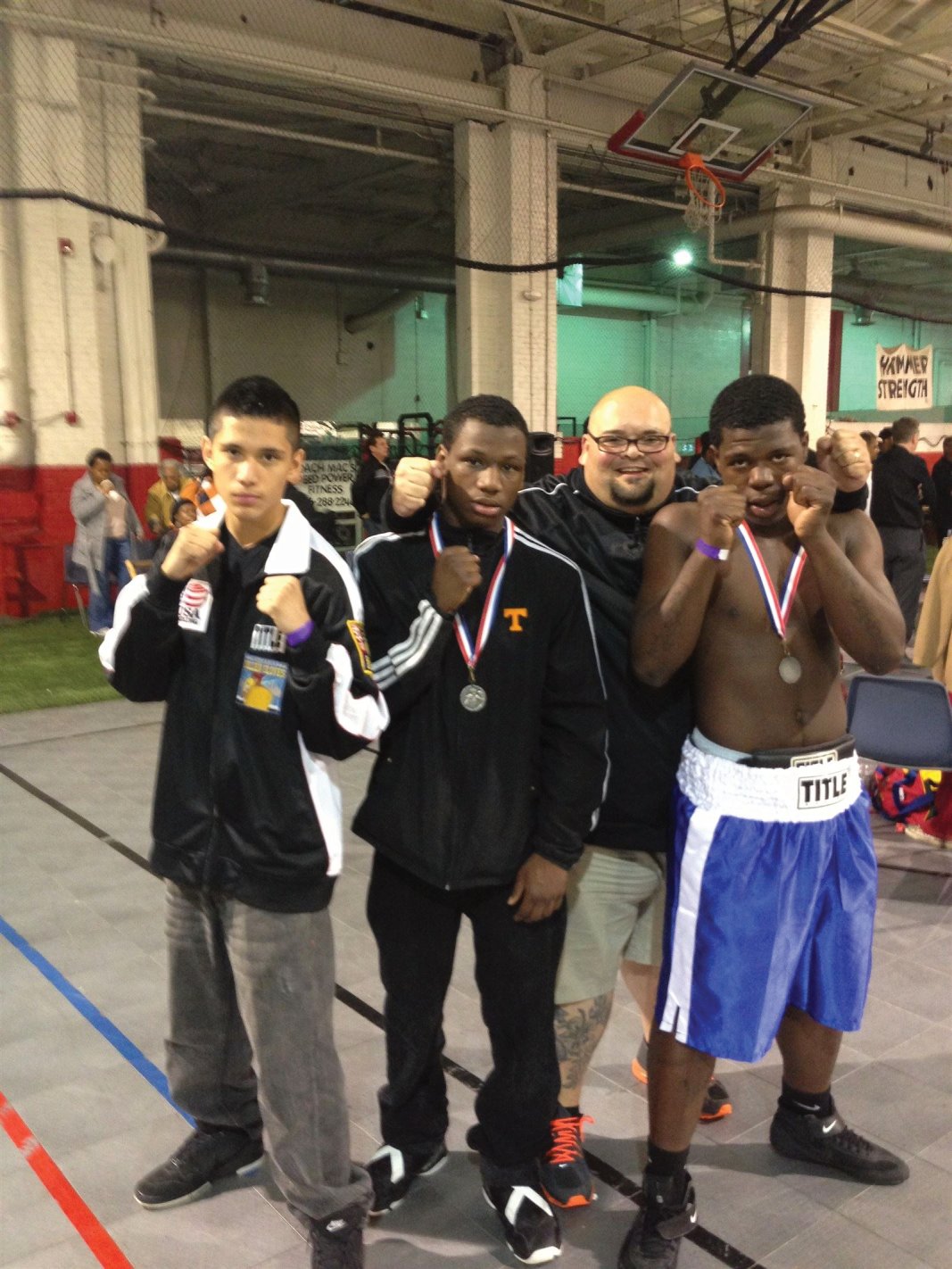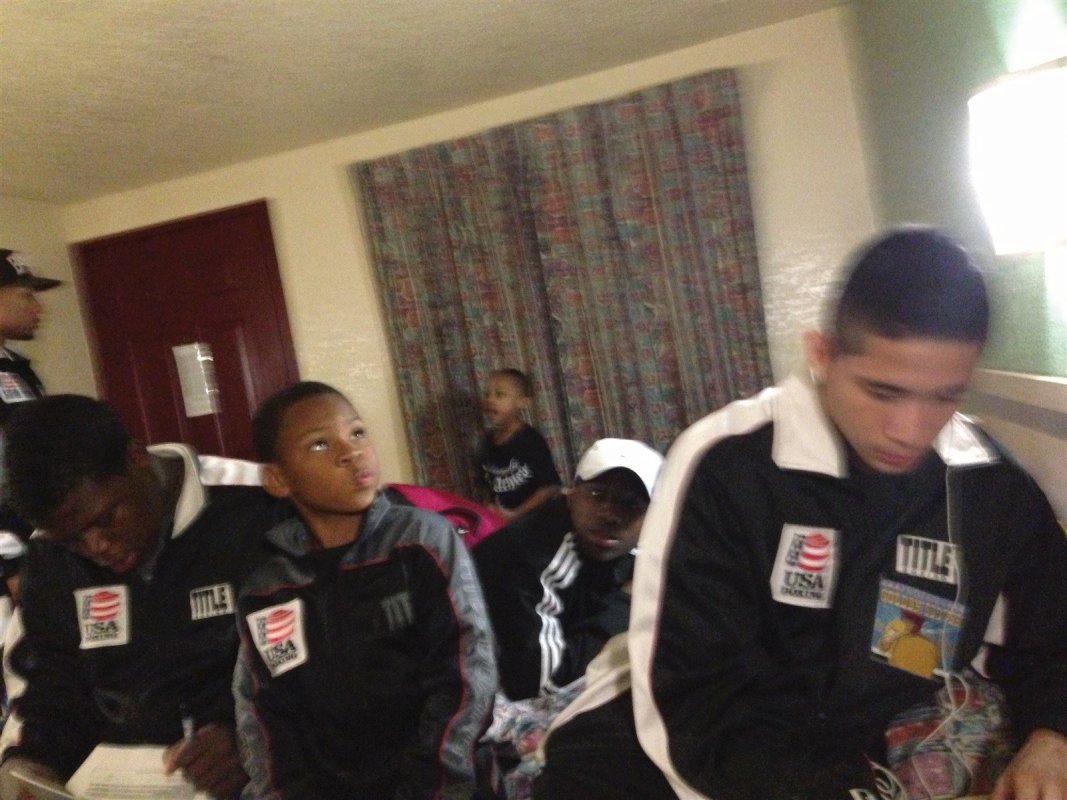 E'mond Driver, Cristian Gomez, and Dewayne Fletcher all advanced to regionals. The Region 5 Junior Olympic Regional competition was held just outside of Cleveland, OH. We had three competing in the tournament, but we took a total of 9 guys with us. The level of competition is intense on the regional level. E'mond has had a total of 11 bouts, while Cristian and Dewayn only have had 5. Most of the kids competing at Regionals has had 40-100 bouts. The impetus for taking such an inexperienced team to such a high level competition was just for them to gain experience. Our boys did much more than that. Cristian made it to the semi-finals before losing a split decision to a more experienced boxer. It was an awesome fight, and would have been very hard to judge. E'mond, Dewayne both made it to the championship bout  in the finals. E'mond was very nervous and made a few mistakes that cost him points losing a unanimous decision. Dewayne fought a war, perhaps the most exiting fight, I have ever coached. He fought a 2 time national champion, that had a solid 100 lbs. on our Dewayne. Dewayne wasn't intimidated in the least. The bell rang and Dewayne came out making the big guy miss, then making him pay with 3-5 punch combos. Round 1 was a clear victory for Dewayne. The second round the national champ put up a bit more of a fight and used his weight to lay on Dewayne and neutralize his speed.  I scored the round a draw. By the third round, both fighters were fatigued, and there wasn't much action. The national champ tired to turn it up the last 30 seconds, but Dewayne was able to avoid the onslaught. I gave the third round to the national champ, due to his aggression. As the ref tallied the score cards, the crowd was on their feet. The decision was split two judges scoring 28-27 in favor of the national champ, and one judge scoring 28-27 in favor of Dewayne. It was an awesome battle. Our boys defied the odds again. I am very proud of their accomplishments. On the ride home we shared our life stories, why we boxed, where we were at with our Lord. We had some emotional times, some funny times, and above all we focused our time, and success on our Lord. Thank you all for your support of our mission!   
At Achieve International, and Team Achieve Boxing we have been in full-swing preparing for Golden Gloves, and Junior Olympics. Last night kicked off the first night of Golden Gloves, a six week tournament where kids across the state will compete for a chance to claim their title, as an Indiana golden gloves State Champion. The completion is fierce, and tension runs high. Making weight, training hard, not over training, proper nutrition, and simply mustering the courage to climb in the ring, are some of the pressures that fighters must manage in preparation for the biggest tournament of the year.  Immediately following six weeks of golden gloves, our boys will compete in the Junior Olympics in Terre Haute, IN.
Our boys show up to the tournaments and set the bar high for the other gyms. They are always in uniform, or wearing a Team Achieve Shirt,their pants are always pulled up, and heads are held high. Wearing a Team Achieve T shirt, or the coveted hoodie is a symbol of pride for our boys. The shirts are earned by actually making the team. To do this, not only must our boys be caught up in their current grade, but they also maintain a 2.5 GPA,have renounced any gang affiliation, and are maintaining proper attendance and behavior.  
The Indiana Golden Gloves is a nonprofit organization. The shows they put on are top-notch, and epic. Vickie Elders sits on the Golden Gloves board of Directors, is an officer, and the tournament director for USA Boxing.Vickie advised a few members of the Golden Gloves board to drop by our facility to see all the programs we have.  Keith Boggs-President, Dick Mills-Former President, and Dave Carr-Officer, came by to see our facility, and meet our boys. They were surprised by the academic programs, anger management, and how proud our boys were of their achievements.They were visibly moved when they saw kids going to the kitchen to make a cup of noodles. At this point I explained to them, that while we are not a soup kitchen, our boys come hungry, and we don't want them to leave hungry. We showed them our stock of noodles and peanut butter.   
The guys reported back to the board what they witnessed a tour gym. A conversation began about how they could help us. Vickie Elders suggested that they all work together to donate food to the gym.  When Vickie gets behind a project, it happens!! A week later, I got a call from Keith saying that he had some things for us. I meet Keith at his business where he donated several boxes of Pepperidge Farms cookies, crackers, and snacks. Keith owns a Pepperidge Farms franchise,and has offered to donate more.   In addition Keith's family took a trip to Costco, and replenished our stock of peanut butter, soup, and noodles.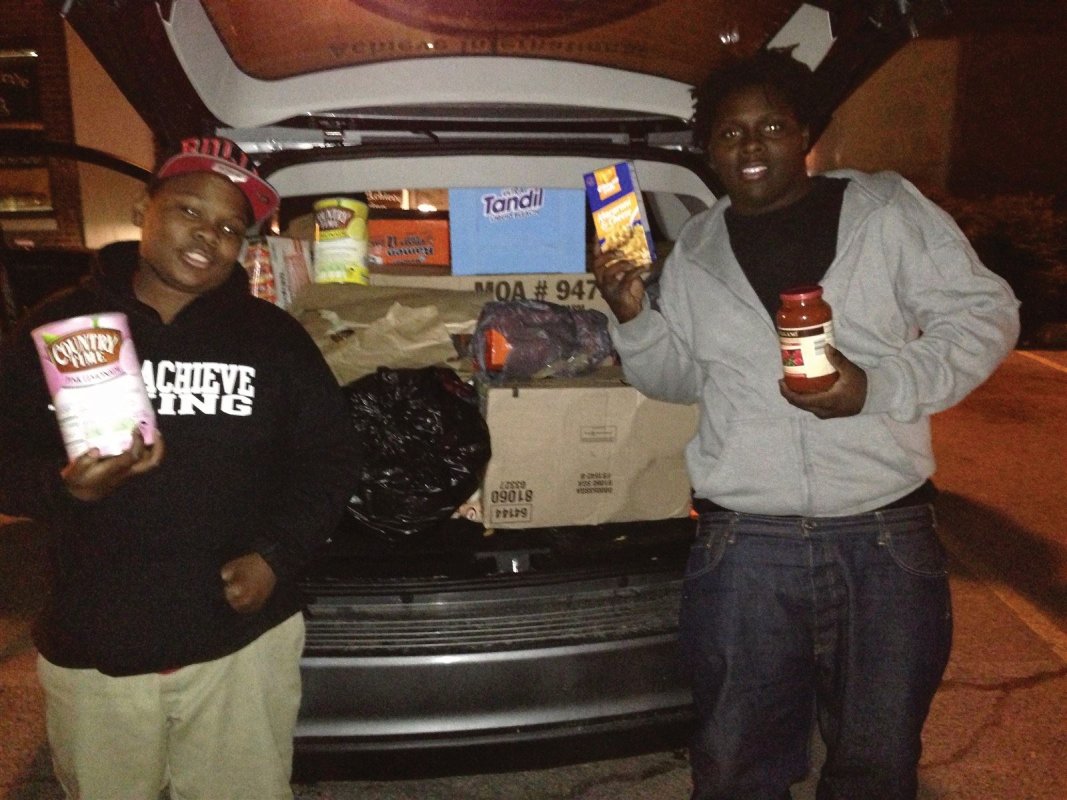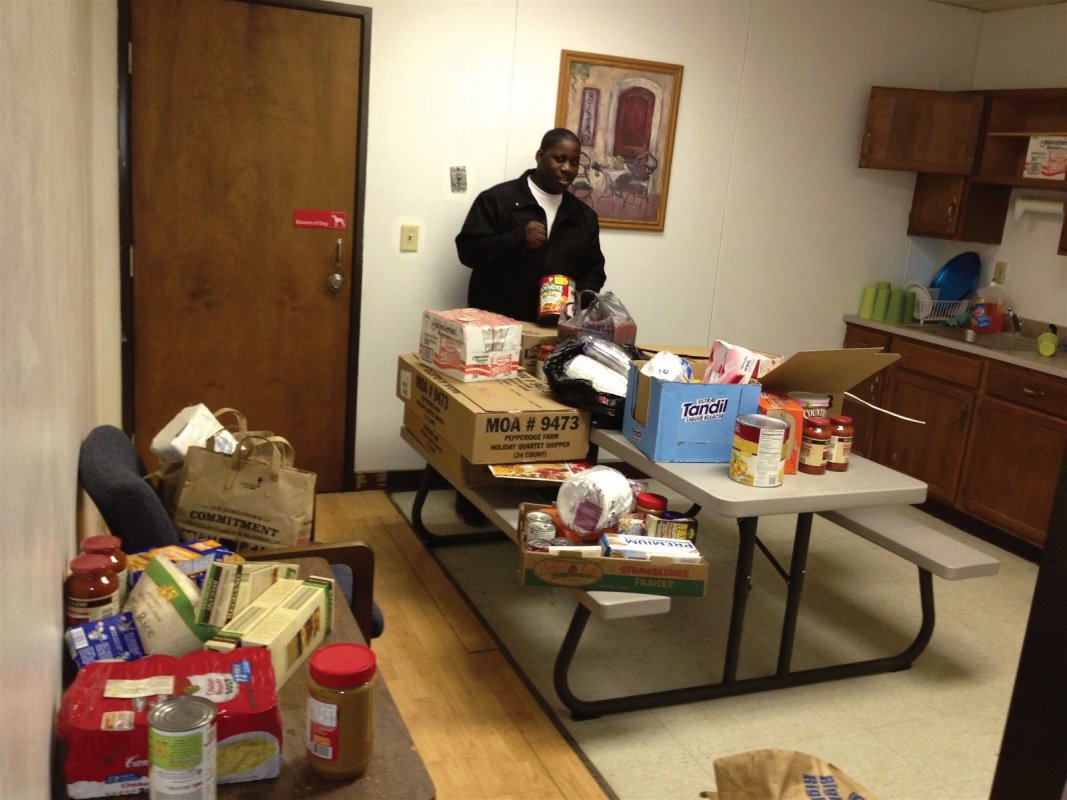 We arrived at Golden Gloves last night, and were greeting by Vickie, and John Elders. "Get some of your boys, and come down to the car withus." Not knowing what was going on I gathered a small crew to meet her. Her car was loaded with cases of canned ravioli, pasta, peanut butter, and snacks.  Our boys were excited like it was Christmas.  It didn't stop there. The entire night our boys were making trips down as USA Boxing Officials, Coaches,and the entire Golden Gloves Board brought cases of food for our gym. By the end of the night, our car was loaded to the ceiling with food, and snacks.
 The boxing community has taken notice of the transformation of our boys. They have made a significant investment. We are humbled, and honored to be a part  of USA Boxing, and Golden  Gloves.
On behalf of Achieve International, Team Achieve Boxing, our students, and our board, we thank you for your willingness to come beside our mission.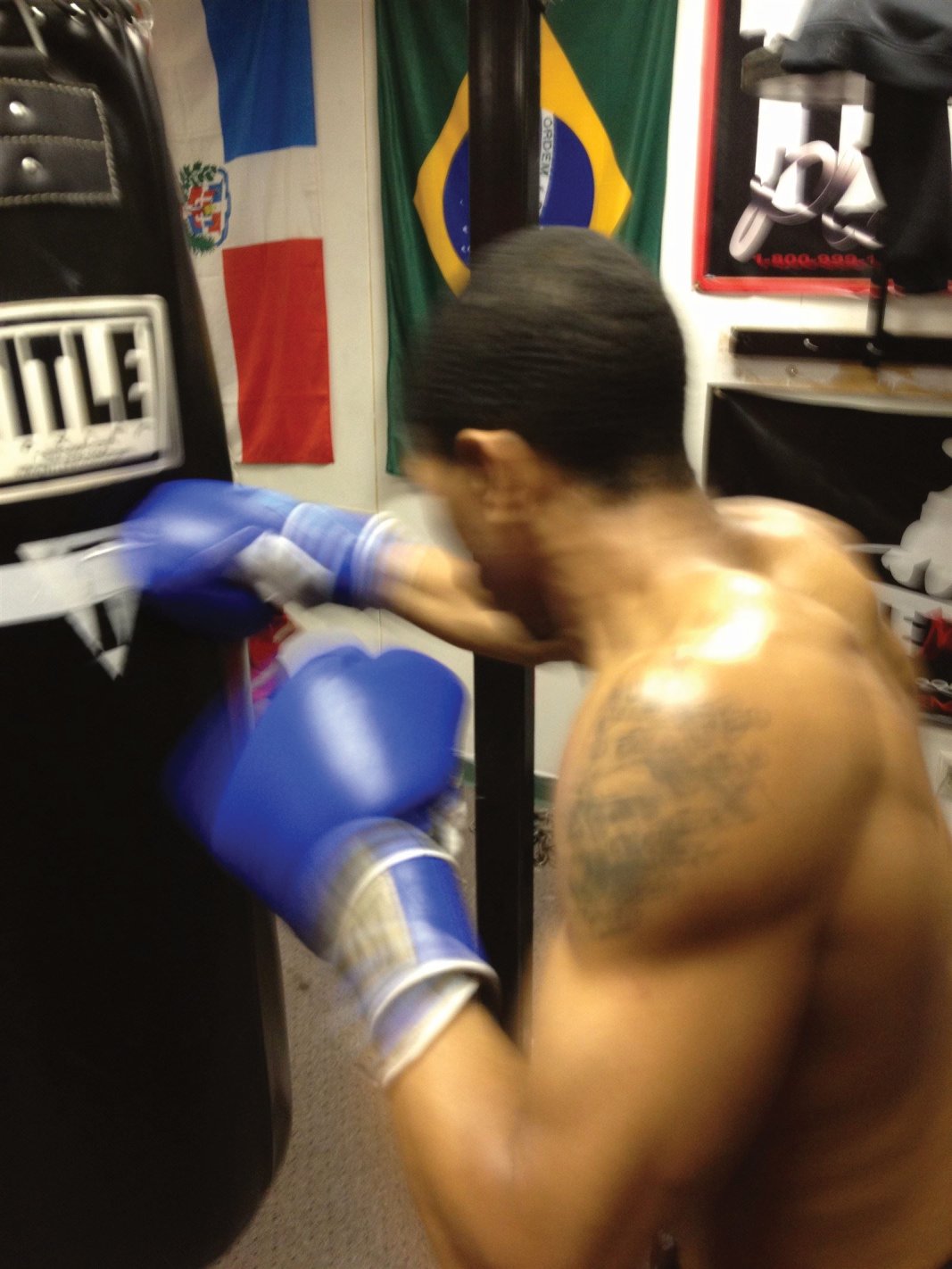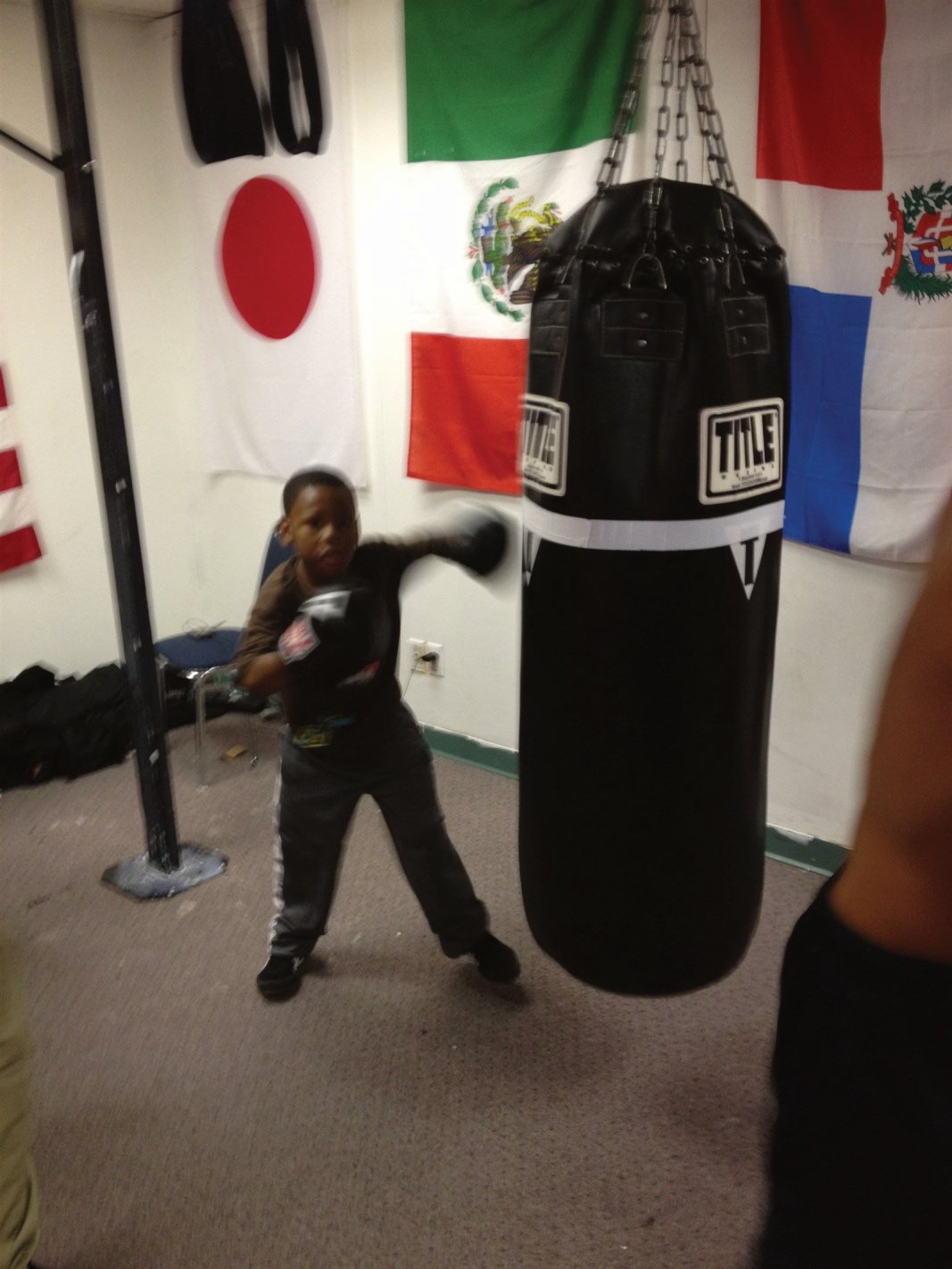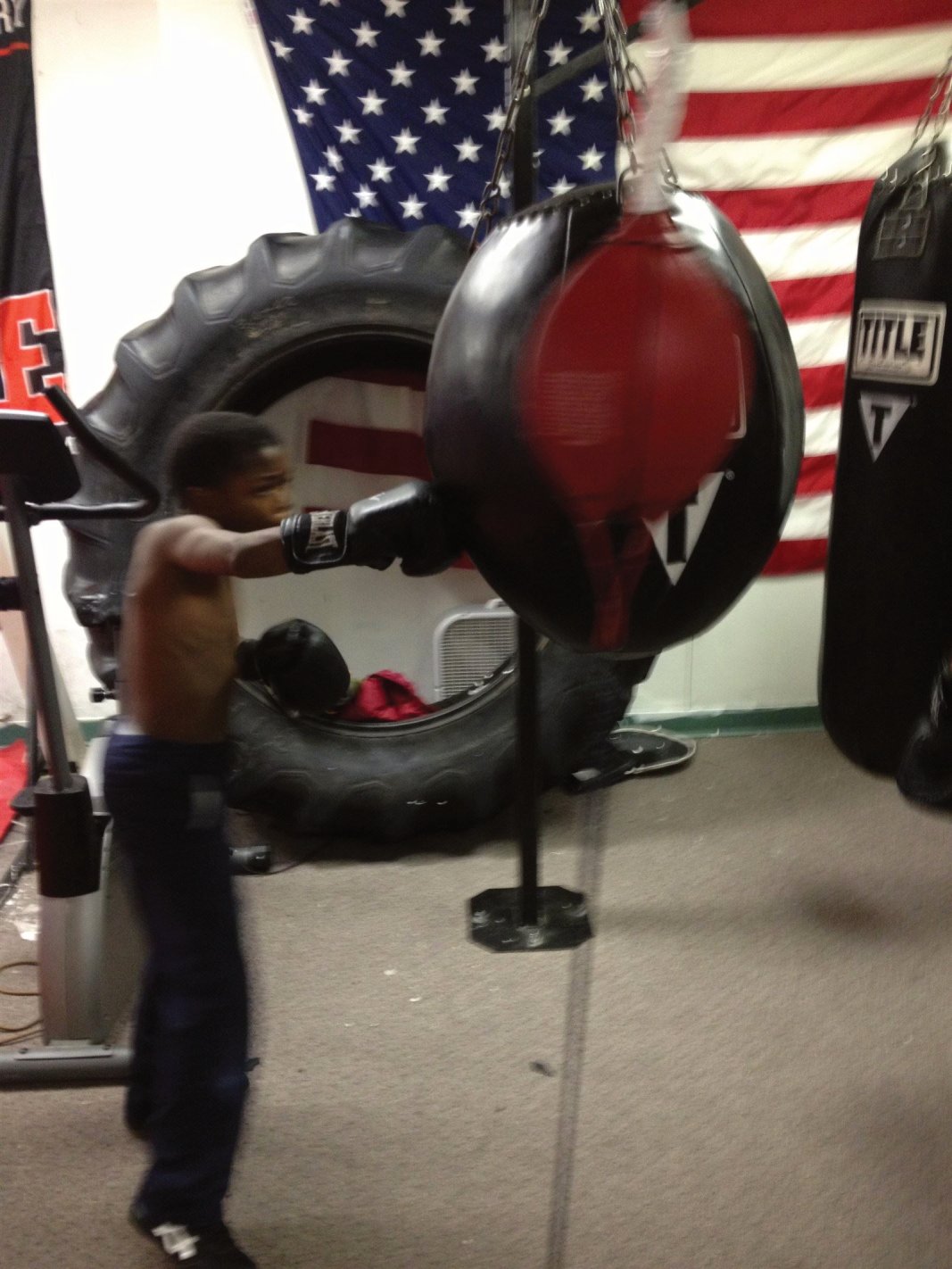 The boys down at Team Achieve Boxing have been working hard  in the gym, and the classroom.  Our participation numbers have remained high. On a slow night, we have at least 20 kids.  Ten of our boys have out shined the rest by not only meeting the required 2.5 GPA, but exceeding it, and making the honor-roll.  This weekend we will start our fall boxing tour working our way up to the Indiana Silver Gloves, and Open State Tournament in December.  Each of our scholars earned a Team Achieve Boxing Hoodie, and sock hat. We will officially kick off our tour this weekend competing at a fundraiser in Marion, IN for The Boys and Girls club. On the 27 of this month we will be at a 2 day fight for cancer tournament in Evansville, IN, followed by a local club's fundraiser in Terre Haute on the 3rd of November. On the 10th of November ,the boys will be fighting in Indianapolis. .After the Indianapolis club show, we will take a three week break to prepare for the Indiana Silver Gloves and the Open Tournament, to be held in Terre Haute the first weekend in December. During the three week break between the tour, and the state tournaments, we will be in the gym conditioning, evaluating, and fine tuning boxing skills. Please pray for these boys as they balance their faith,studies and athletics.
Ezekiel 37:1-14
New International Version (NIV)
37:7 "So I prophesied as I was commanded. And as I was prophesying, there was a noise, a rattling sound, and the bones came together,bone to bone. 8 I looked, and tendons and flesh appeared on them and skin covered them, but there was no breath in them."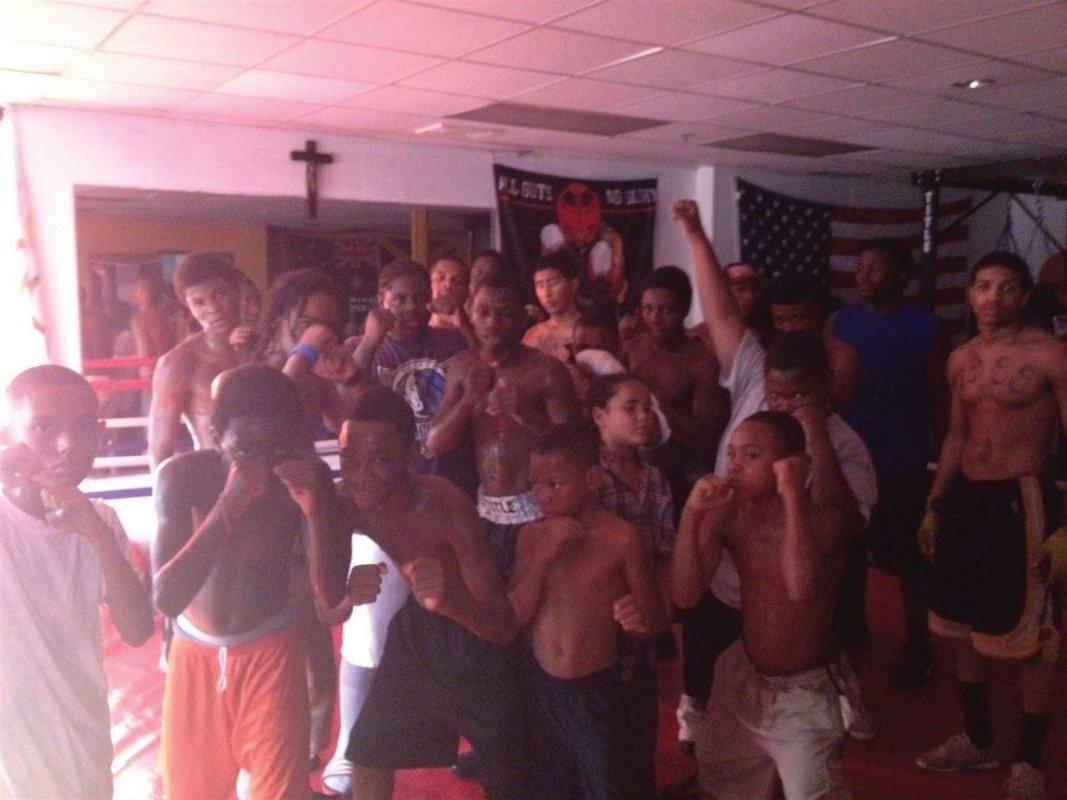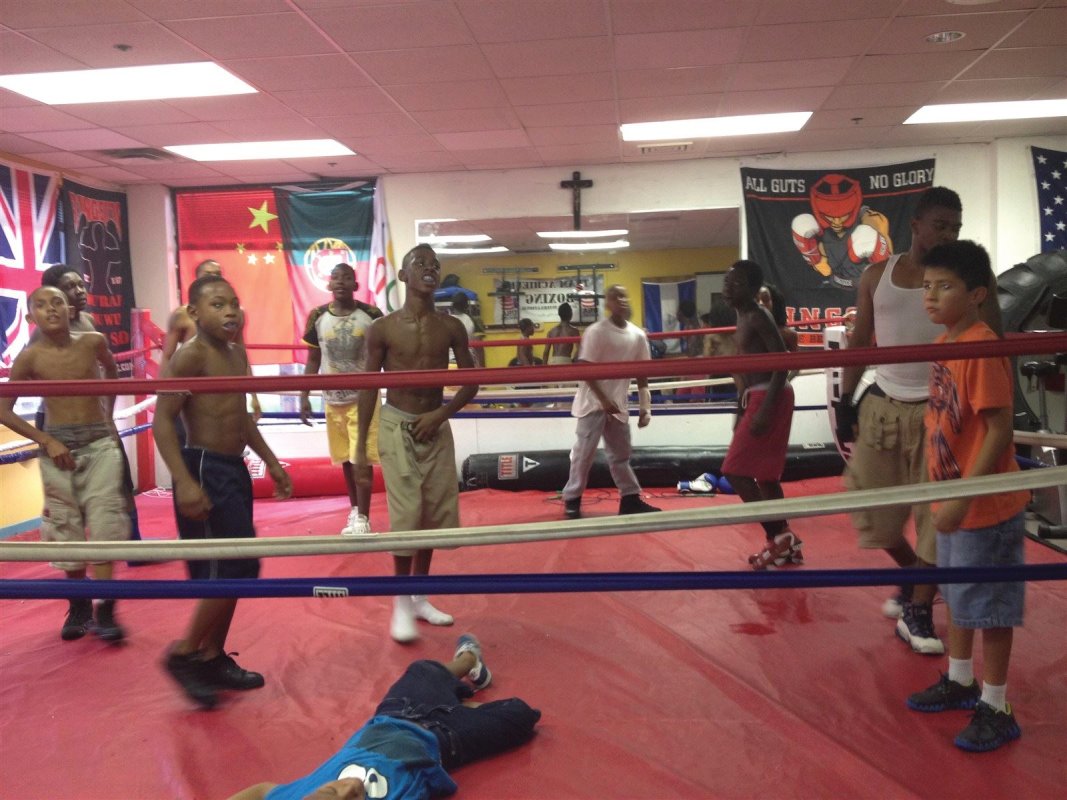 Our fall program has been in full swing for a month already! Our numbers have been high, on a low night we may have 15-20 guys and we have been having 30-40 a night, more often than not.  Just as the verse from Ezekiel above states,we are watching dry bones become flesh. I want to highlight one kid in particular, that has made radical steps in transforming his live through faith and education, Dreshawn Carter.  I first met Dreshawn while picking up kids in the team van on 10 street. We were approaching our next stop when a large kid, about 5'9" and 320 lbs with long dreadlocks shouted out "I want to box!". I stopped and introduced myself to Dreshawn and he started coming to practice every day. Only 14 years old, Dreshawn had not been in school for the past two years. He explained that he was kicked out of Arlington for selling drugs in the 7 grade and simply never returned. I tried pressuring his mother into signing him up for at least credit recovery but she refused.  I got a call over the summer from Dreshawn, he said "Coach, can you still help me get back in school?". I jumped on the opportunity and we enrolled him in Tech high school. Despite his lack of education we were able to get him a fresh start as a freshman at Tech. Much to my surprise, he has brought homework to the AI classroom every day. When I ask him how his grades are looking and he always responds "They cool, coach!".  Yesterday I found out that by "cool" he means all A's and one B!!! In addition to his hard work in the classroom, Dreshawn has gone the extra mile in the gym. He has lost 90lbs so far and is down to 230lbs. Last night at practice, he sparred with 4 different guys in his weight class, (all older than him). To everyone's surprise, he gave those guys all they wanted and a little bit more. The whole gym was shouting and cheering for him as he sparred round after round. I was more than a bit elated as I shouted "I see you, champ! I see you! Where did this guy come from!?!". After the sparing session, I threw my big arms around him and said, "look at your life, champ! Six months ago you were a dropout, a gang member,  you weighed over 300 lbs, smoked marijuana and played video games all day. Today you are a man of faith, an athlete, an honor-roll student and well on your way to becoming a State boxing champion!"  I don't know who was smiling harder, him or me but we both soaked in the moment. There is nothing like building a kid up infront of other kids. All the guys were patting him on his back and cheering for him.  His chest stayed puffed the rest of practice. Dreshawn is why we do what we do. There are many praises and to name a few, we have four guys working with River Valley Resources taking full-time G.E.D. courses. RVR gives the boys bus passes and will give them $250 for passing their G.E.D. exam. We have two guys preparing to go to the Hoosier Youth Challenge Academy in November. HYCA is a residential  quasi-military school that will give the boys the opportunity to earn their G.E.D. and 3 credits from Ivy Tech, in just six months.  Tech high school is currently working on allowing any guys that are in our program to participate in PLATO credit recovery classes, even if they don't qualify by traditional standards for credit recovery.  We have 12 guys that are working hard to earn a steak dinner by making the honor-roll in their traditional classroom setting. I am proud of the guys they are putting in extra hard work in the classroom and the ring. Terry Christian, coach of the Lafayette Boxing Club recently had a Facebook post that read. "Many of these kids couldn't make the school baseball or football team. In fact, many of them will never be a great boxer but boy they work hard. I wish their school teachers and parents could see how hard they work in the gym." I was moved my this statement and I too wish that teachers, parents and police officers could come see how hard they work. It would, without question change the way that our boys are viewed. The harder I make practice, the harder they work. That in itself is transformation. I know without a doubt that this will be a great year of watching these young men transform their lives through faith and education. Thank you all for your support of our mission.
1 John 3:18 "Dear children, let us not love with words ors peech but with actions and in truth." At the 2012 Junior Olympics our boys displayed integrity, hard work and discipline as the five athletes competed in eight weight classes. Junior Olympics is the second largest USA Boxing state championship of the year. The narrative below is a quick summery of our weekend at the 2012 Junior Olympics. 
We always bring a bathroom scale with us to the tournaments so there are no surprises when we get to the weigh-ins. Two of our guys were overweight by several pounds and we spent the rest of the evening in the fitness room with the heat set on 85 as the boys took turns riding the stationary bike and running on the treadmill. Their final pounds were shed at around 11 pm. In order to make weight they could not eat or drink anything until weigh-ins the following morning. We spent about an hour or so being guys and sharing boxing stories. The boys always want me to retell the same old stories about different matches that I had. They always listen carefully and are quick to point out any detail missed. The weekend was off to a good start!
We started early Saturday morning and made it to the weigh-ins an hour early to be first in line. The sooner we make weight, the sooner we can eat and hydrate.  All of our boys made weight and we headed back to the hotel to capitalize on the free breakfast before meeting with the fight doctor, as required for all sanctioned USA Olympic Boxing events. Our boys remained in uniform with their shirts tucked in and held the bar high for themselves throughout the entire tournament.  Everyone performed with skill, discipline and integrity and those in attendance took notice.  Our team was set apart. No one was "sagging" their pants or wearing their hats backwards. There wasn't a single argument orf oul word spoke.
 Cristian "Bones" Gomez was first to compete making his way to the finals where he became a 2 timestate champion and earned a silver medal in the 119 lbs. weight division.
Kevin "Big Kev" Walker, walked through the 185 lbs. division earning a gold medal. The following day he moved up to the heavy weight division where he made it to the finals earning a silver medal.
Amonta "Tey Tey" Washington was not contested and earned agold medal for the 165 lbs. division.
Emond "Moo Moo" Driver earned a gold medal in the 125 lbs. division. The following day he moved up to the 135 lbs. division where he out scored a bigger,stronger and more experienced boxer by double the points, earing him another Gold medal. At only 14 years old Moo Moo has picked up four state titles in the past three months and remains undefeated and a proven leader in our program.
Edson "Rampage" Driver earned a gold medal in the 60 lbs. division. The following day he moved up to the 70 lbs. division and earned another gold medal.  He was also awarded the Junior Oylmpic Outstanding Sportsman Award. Rampage is 08 years old  undefeated and without question was a crowd favorite this year.
Thank you all for your love and support. Lives were forever changed this weekend. These young men were not only presented with the opportunity to compete on a state level but, they also rose to the occasion and came home State Champions. They conducted themselves in a manner worthy of the Gospel and made me very proud.  We took 5 young men and they came home with six gold medals, 2 silver medals and one sportsman award. Thank you all for making these champions a reality.
Each of the fighters had to maintain their fight weight for the entire six weeks of the tournament. In addition, they had to maintain their GPA, have perfect attendance and get in to no trouble at school or on the streets. This is a tough challenge for anyone.  Maintaining proper diet and hydration for twelve weeks was essential. No sodas or sweets! 
Our team made us proud and we were honored as they stepped up and said yes to a challenge that most would run from. They were always clean, well-mannered  and respectful. They conducted themselves in a manner that is worthy of the gospel and finished the tournament with excellence. I was also humbled to be awarded the Sarge Johnson Coach of the year award. 
I am most honored to introduce to you the following state champions.
Shaiton Andrews-Hurley
Cristian "Bones" Gomez
Dewayne "Squirmy" Fletcher
Emond "Moo Moo" Driver
Dorian "The Surgeon" Croney
For Indiana, March-May is the most exciting time in USA sanctioned Olympic boxing. March 15th kicks off the season with six weeks of Indiana State Golden Gloves. The boxers that win at the state level will have the opportunity to compete in regionals and eventually nationals. Winning at nationals qualifies for a spot at the Olympic trials. During Golden Gloves, there will also be Jr. Golden Gloves for kids 16 and under. Those who win Junior Golden Gloves, will advance to the Junior Olympics in May. The boys have been working hard in preparation for these upcoming tournaments.
This past weekend we took 10 boys to the Kentucky State Open Boxing Tournament in Livermore, Ky. This is Kentucky's largest state tournament of the year. Our boys went into the tourney knowing that we were coming to see how we compete under pressure as well as provide the perfect opportunity for a tune up match before our state tourneys begin. We left after school on Friday. We started our adventure at AI for a quick equipment check and a reminder to the boys that we are representing Indiana, AI and above all, Our Lord. We made a quick stop at St. Rita's church where Fr. B prayed for the safety of the boys and traveling mercies for our journey. With the van loaded down with fresh fruit, peanut butter and water we left Indiana heading south bound to Kentucky.
Of the 10 boys we took, 6 got matched in the tournament. We had 3 boys win to become KY state champions and one of boys won a trophy for fight of the night. Two of our boys were clearly ahead on the score-card but still lost a judge's decision in favor of the local team. We actually tied for the most wins for team trophy but they said during the case of a tie preference would be given to local gyms. Our guys were frustrated by the unfair practices but conducted themselves in a manner worthy of the Gospel and made me most proud!!
Wins and boxing aside, there is something very powerful that happens when you take a kid out of their environment. These boys thought they were going to box but in reality they were going and a radical spiritual journey. Remember, the Magi that followed their passion and idol (Astronomy, a star) to the baby Christ. After an encounter with Him, scripture tells us they went home a different way. Boxing led these boys on a spiritual journey and I am sure they came home a different way.. Thank you, for your partnership in the Gospel!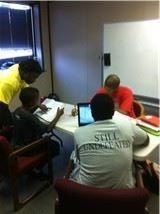 At Achieve International when a kid comes in to our program we work with them to set an academic, spiritual and physical goal. Today I want to highlight the academic. The academic goals vary from kid to kid. We strive to help them set realistic, measurable, and achievable goals.  For some students that means making the honor-roll while for others just making a C is a major accomplishment.  We do all we can to help kids earn a high school diploma. The sad reality is, some come to our program too late. For those kids we help them earn a G.E.D.. There are many programs that we have partnered with to help achieve our academic goals, Diploma Plus, The Hoosier Youth Academy and The Job Core are among the most common.  Once a kid has earned a high school diploma or a G.E.D. we work with them to further their education. For some this is simply a trade school or certification. We really focus our energy on getting them into college. I would like to highlight and honor Achieve International's first college graduate Ricky Parke.
When I first met Ricky he was a street smart yet mild mannered kid. He was fresh out of high school and got into some trouble picking himself up a D.U.I.. Ricky joined our boxing team and enrolled in Ivy Tech. Ricky experienced many highs and lows , successes and failures as he earned an Associate degree in nursing. It was my highest honor to watch Ricky's life transform before my eyes.
In Indiana to be a nurse you must pass a state exam (NCLEX). The Indiana Board of Nursing reviews each case individually before allowing the test to be taken. In Ricky's case, the board took exception to his troubled past and criminal history. I had the honor of writing the board on his behalf and told them of the man I watched Ricky grow to become. I told them how he was a leader  and a beacon of hope for every kid in our program. If  Ricky could make it they could too. After reviewing all of the evidence the board allowed him to take the test and he aced it on his first try.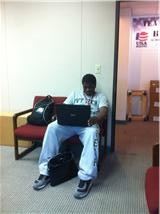 Elated at the news, I passed the great story on to our board at A.I. .  One of our sponsors and board members has connections at a local hospital and offered to help Ricky gain employment. I called Ricky to tell him the news but he never returned my calls. I constantly pursued him over the next couple of weeks in hopes of helping him gain employment using his degree. My frustration and concern grew as time passed with no response.  Yesterday, Ricky came into the gym wearing hospital scrubs and a prodigious smile. I instantly began interrogating him as to why he didn't follow up on the job lead. Ricky looked me in my eye and with the upmost pride and confidence said "Coach, I didn't want help! I wanted to do it on my own! I got a a Job! I am working at Methodist Hospital.". Ricky went on to tell me of his salary and all about the interview process.
Ricky hopes to further his education as he works in the medical field. Ricky has paved the way as Achieve International's first college graduate. Words cannot express the onslaught of emotion I feel as I think of Ricky's future and all the obstacles that he has over came. We currently have five students that enrolled as college freshman this semester. One of our kids is studying respiratory therapy while another in on a full-ride scholarship studying civil engineering. None of our students are borrowing money or taking out student loans and will never know the slavery that accompanies the large debt of an education. Thanks to our sponsors for helping educate and finance our student's future.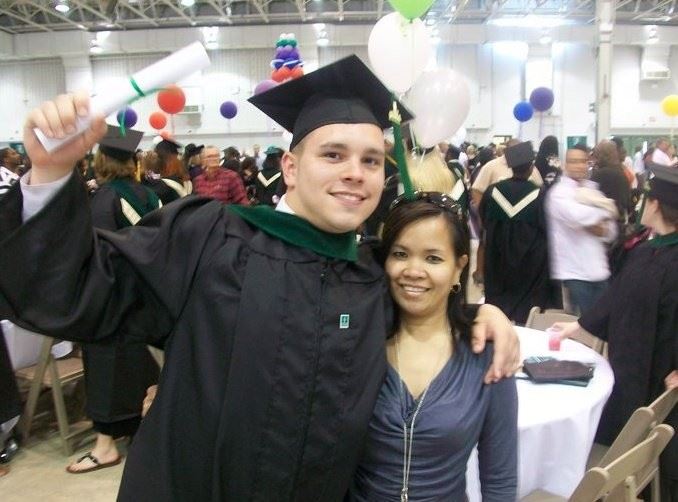 We introduce Kids to the Amazing Love of The Christ and walk beside them as they achieve academic success. Ricky has truly transformed his life through faith and education and others are following in his footsteps.
/